Each person will have 2 partners You will be sending each partner 6 finished blocks (see below for visual of a finished block)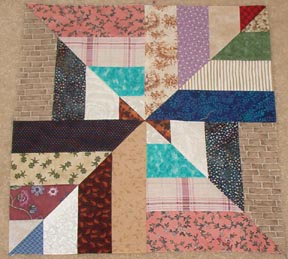 Finished Block Example
Pay close attention to the layout of dark and light strips, especially which side the triangles are facing. It is easy to make a mistake when piecing the 4 squares together so really watch yourself.
We will be using the strip twist block pattern.
Strip Twist Block Pattern Link: http://www.quiltville.com/striptwist.shtml
When using this pattern make sure to use the instructions for the strips at 2.5" so all your blocks are the same size when finished.
Fabric should be new, of good quality and 100% cotton. Color choices are based on what your partner prefers written in their profiles. Please read your partners profile and see what colors they prefer to have. Some swappers may wish to list colors they would prefer to NOT have in their blocks if that makes it easier. Blocks do not have to be identical, especially since these blocks are generally quite scrappy.
If you have allergies please state this so your partner knows. If I need to pair you with a new partner I will do so. If possible, use fabrics you already have in your stash. This is a scrap busting swap!