My name is Janaina, but you can call me Jay! I'm in my thirties and I teach English in Brazil.
I reduce, reuse, recycle, regift and you can do it for me as I might do it for you. It´s a principle of a life without excess and accumulation. It´s fun!


I love anything with cute dogs on it. Actually, I don't think there's such thing as a "non-cute dog" (or animal whatsoever). Being the mother to the two most lovely poodles ever seen, anything that comes with four legs and fur has a special place in my heart.
Here's a picture of my babies: Petit (12 yo boy on the left) and Fefê (14 yo girl on the right). They're the best kind of "people" I'll have in my life, that's for sure!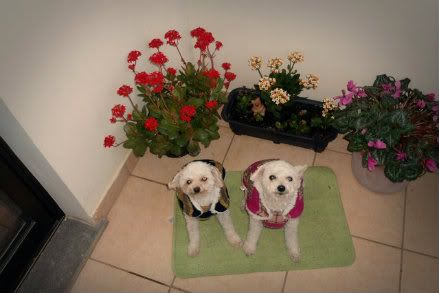 Things that make me smile:














I'm crazy about books and willing to swap whatever you want for them. We can arrange a private swap, just get in touch. I can cross stitch you something (scroll down to see a few of my pieces) or agree on something else. I'm particularly interested in crime books. Examples of authors I like: Tom Perrotta, Jo Nesbo, Alex Kava, Rachel Ward, Karin Slaughter, Harlan Coben, Andrea Kane, Cory Doctorow, etc...
If you have any suggestions of books you think I should read, please, leave me a note!










linnen/evenwave for me to cross stitch on. Any color is fine, although I´d prefer it in white or some other light color. 14ct (28ct) would be p.e.r.f.e.c.t!

DMC skeins of embroidery floss are always welcome! I'm trying to complete my collection, so here are a few of the shades I still don't have:
167

168

221

367

368

371

372

422

444

453

501

505
517

520

524

543

550

552

553

561

562

563

564

598
600

601

603

606

611

612

613

632

701

718

722

730
731

732

733

734

758

781

793

794

796

803

806

807
809

824

829

830

831

833

834

838

839

840

841

842
895

909

910

911

912

915

917

919

920

921

955

958
964

966

967

970

971

975

988

989




3340

3341

3347

3607

3608

3609

3685

3766

3768

3772


3773

3774

3776

3777

3779

3782

3790

3802

3804

3806


embroidery needles. The smaller the better!

crossword puzzles

Altoids tins


making other ppl smile

comics (Calvin and Hobbes are by far my favorite but anything (in English) that's popular in your country and that I can use in class'd be a blast w/ my students)


























anything for my husband. He's a military and loves anything WWII related. Also anything related to the military forces in your country. He's size L, loves caps, pens, socks and camping. He's studying Spanish and is very motivated about it, so cosswords/news magazines in Spanish and anything in the theme of the Día de Los Muertos would make his day. He loves music and I believe he'd love a postcard w/ something written in Spanish.

a wooden envelope template similar to THIS

anything kawaii: sticky (or not) memo pads, flakes, pens, pencils, pencil cases, small containers/tins, stamps, pouches etc... Monokuro boo, matryoshka dolls, Deery Lou, TuxedoSam, Nyokki and Penne, Crux Furry Bunny, Purin, Miss Bear's Dream, Hannari Tofu, Yogurt Kun, Iiwaken,Little Red Hood, Mamegoma, Momobuta, Kireizukin, Pinny-mu, Berry Puppy, Rillakuma, Usarusan, Shinzi Katoh, anything with poodles or puppies on it, fruits with happy faces (especially berries and any red fruits)


I just love anything Canada! Maple leaves, maple syrup, Tim Horton's, naked postcards, maps, calendars, stickers, touristy t-shirts, nail polishes, anything Toronto, pressed pennies, The ROM, you name it!

cute/funny coin pouches like THIS or THIS

anything for my babies!




















I love anything from and about London: tea, Union Jack print, naked postcards, maps, calendars, stickers, touristy t-shirts, nail polishes, used books,...

eco friendly bags (store bought or handmade)

funny shower caps, like this one here

funny/cute keycaps like this one here, here and here

anything w/ woodland critters,dragonflies, ladybugs, bees, mushrooms, blue birds, pandas, bees, fireflies, Red Riding Hood, cookies, cupcakes or cherry flowers on it.
Things that make me frown:

smoke smelling things. This is a smoke-free home.


torn/fold/dirty stationery

broken things. Attention to how you pack your swaps, people!

ATCs and scrapbooking items (just not my thing)

Disney, Hello Kitty, Sponge Bob or Diddle stuff.

Zoos. Animals are supposed to be free. It's not funny to be encaged.