****I wanted to explain about the dessert journal swap. When I sent this swap out Swapbot would not let me show that it was sent. I tried about 6 times and it kept coming back with an error message. On my end it showed that it was sent but on the swap it did not. I did post a message on that swap in the comments about this and why it was not showing sent. I have not been able to log on to Swapbot for awhile, my mother in law was diagnosed with breast cancer and had to have surgery. I have been staying with her and she has no internet and no cell service at her house. I am really sorry about this I thought that this swap was taken care of. I really did not think much about it until the swap coordinator emailed me. I have never flaked on a swap before. I just wanted to explain why I have not been able to log on in such a long time.***
About me My life revolves around my husband of 22 years and 3 great kids. I am pretty easy going and take life as it comes. I love to read, watch movies, and I am a total nerd that loves anything techy. I have a few things that are always with me my ipad, iphone, and my planner. Where I live it is pretty isolated, my husband is an over the road truck driver who is usually gone from Monday-Friday. My oldest daughter is living on her own and my son is currently going with his father until he starts his full time job that starts in September. That usually just leaves my youngest daughter and me at home. It just gets a little lonely we live in a very small town where my husband grew up and I do not know very many people here. It always makes my day getting happy mail from someone. I really try hard in my swaps to make someone else happy.
I do not work outside the home. I love being able to run my small Etsy store and that helps. I am also trying to be more creative and find fun and new things all the time to fill my Etsy store with. I love creating new things. I always amazes me what we can do with almost anything as long as we use our imagination!!
I have a link above to my Etsy store but here is the link: My Etsy Store
♥♥♥I am totally addicted to Pintrest and love trying out new things I find on there I am constantly updating and pinning new things. If you would like to check out my Pintrest boards here is the link Kelly's Pintrest Boards I love getting to look at others Pintrest boards you can message me with a link to yours anytime!!♥♥♥
★★ I know that my profile may be long but, I love variety and do all kinds of swaps. I think it helps when your swap partner can get a good sense of who you are, your likes and dislikes★★.
---
I have two fur babies Roscoe and Penny (of course she is named after Penny from the Big Bang Theory.) They are both Shih-tzu's. They are spoiled rotten and believe me they know it!!
---
★★ I would love to do private swaps- don't hesitate to ask. ★★
---
★★RECIPES★★
I am really not that picky of an eater. The main thing that I do not like is anything with any color Peppers or anything really spicy. Also, I know how to cook but please do not send anything that is so detailed that it would take a professional chef to cook. I do live in a pretty isolated town and sadly the main grocery store that I have to shop at is Wal-Mart. They do not carry any really rare types of ingredients. I have been trying to adapt a healthier life style. So I love getting ideas on how to make anything that is healthy but, still taste good.
---
🎵🎧 Favorite Music 🎵🎧
My favorite music is usually country with a little pop added in. I love The Band Perry, Rascal Flatts, Miley Cyrus, Kelly Clarkson, Brad Paisley, Blake Shelton and of course Taylor Swift. I love the way that music can take you back in your memories and make you remember things we have forgotten. I think that we associate certain songs with special events in our life. When you hear that song it is like that memory was yesterday.
---
            ★★  Favorite Books ★★ 

This could really take forever I just updated my books on Goodreads and as of now from just the books I remember I have read over 450 books. I love to read, probably more than anything else. It is totally my escape from life. I am one of those sappy people who like happy endings. I read or watch movies to escape reality. I want the happy ending! Who cares if it is realistic or not that is what I am escaping from. I love books that are series, you get to really know the characters after 3 or so books. I love the mythology that some of the authors put into their books. If I really enjoy the series I love digging and finding out more about the world that these characters live in. Some of my favorites are Harry Potter, The Hunger Games Series, Hugh Howey's Wool series, Twilight Series, I am four series. I mostly like dystopian, science fiction, fantasy and romantic genres. Some of my favorite authors are Hugh Howey, Julie Garwood, Lynn Kurland, Suzanne Collins, Emily Griffin, Jennifer Weiner, and Lisa Jackson. That is just a few that I enjoy reading. If you would like to check out my Goodreads account or follow me here is the link. My Goodreads Account
---
  ★★   Favorite Movies and TV  ★★

My Favorite Movie right now is Pitch Perfect. I have probably watched it over 20 times. I cannot wait till May 2015 for the sequel, I also love What to Expect When You are Expecting, Friends with Benefits, Juno, The Hunger Games, all the Harry Potter movies, Pride & Prejudice, Sense and Sensibility, The Holiday, In Her shoes, Mr.&Mrs. Smith, all of The X-Men Movies and both the National Treasures movies just to name a few. I know I have very mixed taste. All I have to say is The Big Bang Theory!! I am obsessed! I also love Supernatural, Vampire Diaries, The Originals, The Biggest Loser, Friends, Mom, Parenthood, House, Gilmore Girls, SOA, Fringe, Medium, Arrow, Pretty Little liars, and Chasing Life. I always cringe when I admit to these but my teenage daughter got me hooked on all The Teen Moms and Dawson's Creek. Oh and how could I forget Ellen I love her she is so generous.
---
   ★★  My Planner ★★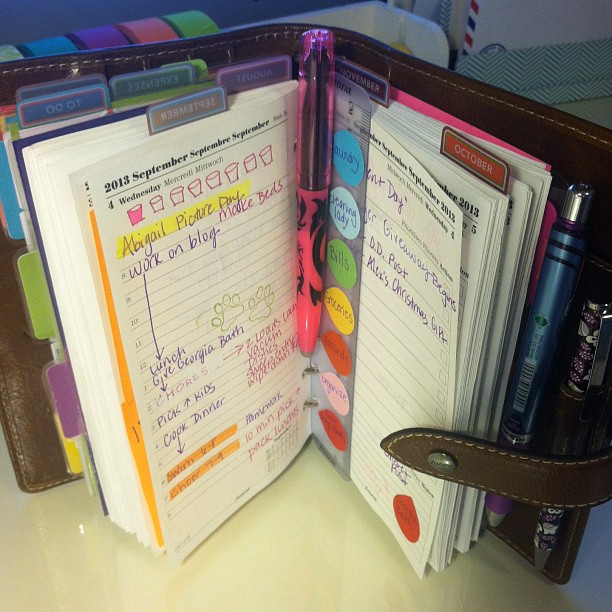 I have come to the conclusion that this is the only planner I truly need and I love it. It is smaller than and A5 but larger than a Personal size FF. I do plan on trying to get my hands on a few more of these especially the nautical blue, and cappuccino colors.
♥♥♥Portable Day-Timer (Hot Pink) (6 rings)♥♥♥
The size of this planner is not a usual size. I just wanted to let anyone know this in case you are going to be sending me something for my planner. I usually make all my dividers 7 1/4" Length X 4 3/4" Width. That way it Is just a little bigger than the actual pages. If I was going to make a page marker I would make it 7 1/4" Length X 2" width.
---
♥♥♥ Things that I love ♥♥♥
Anything for my puppies any thing that says Shih-Tzu.
Anything Monogrammed with the letter K,
I am obsessed with the letter K.
Pen bags that zip or cases.
I love odd shaped or unique sticky notes, any type of page flag.
Journaling cards
Washi Tape (do I need to say more)
I love owls, baby animals, ladybugs, small planner stickers,
I love bright colors blues, purple, lime green, pink, orange, and light blue.
I love polka dots and stripes.
I love really cute little animals butterflies, lady bugs, monkeys, and turtles.
One of my favorite things right now is Simple Stories [email protected] Products! I am in love with it all!
♥♥♥Cartoon Characters I love♥♥♥ , Betty Boop, Tinker Bell, Ariel, Winnie the Pooh, Woody, and Belle
I love any kind of graphic art especially sarcastic or positive quotes.
I love those ecards you see all over Facebook.
I love all things handmade and creative. It means more I know if it came from you and it is handmade.
I love cute fuzzy soft socks, bright colors or cartoon characters just fun and colorful SOFT
★ STICKERS: ★ I like fun girly stickers. Adorable hearts, stars, cute cartoonish kiddy animals, butterflies, cutesy cartoon birds, owls, frogs, teen girl, flourish, words, phrases, etc, I prefer clear as opposed to white background kind). My favorite alphabet stickers are thickers brand or chipboard style letters. I like flourish or design stickers and rainbows. I do not mind 3D or puffy stickers I like having variety. The only cartoon stickers I like are Mickey Mouse, Princess and Tinkerbelle Holiday stickers that I like are Halloween and Valentine 's Day. See dislikes for more sticker info.
---
♥♥♥ Wish List♥♥♥
I am just getting started in this hobby of Project life so I really do not have any of these things and would love to get more.
Wood embellishments for Project life
Any Simple Stories [email protected] Journaling cards or PL themed cards
Any [email protected] stickers
Washi tape that is stripped, polka dot, floral, owl, stars, any color really.
Stickers that are phrases
---
       (◕︵◕)   Things that I dislike (◕︵◕)

Hello Kitty,
stickers of pictures
realistic looking stickers
Sharpie Pens, flair pens, or Jell Pens
Baby stickers
teacher/reward stickers
Any cartoon stickers unless listed above In the like section
any really old stickers I really do not want those Anything that has been used and that is bent or dirty
Holiday Stickers other than Listed above in the likes section.
Anything from a house that has smokers, I am very sensitive to this and allergic.
Perfume
yellow, my least favorite color
used socks (gross)
Please do not send me anything you yourself would not like to receive in return.
---
   (◕‿◕✿) Crafts that I really enjoy (◕‿◕✿)

I have been scrapbooking for almost 10 years now and I love it. The main reason I think I like this sort of craft is that it really is a combination of design, imagination and creativity. I am now really interested in layering and trying to get out of my comfort zone.
I am just starting out in Project Life so I am getting very excited about all of the fun stuff they have for that.
I really look at my planner as a craft. I use it to keep organized and a creative outlet.
I would really love to learn how to sew and crochet. That is my goal for the next year.
. I know this may not be a craft to some people but I am totally addicted to pintrest. I am on it all the time and it to me is a craft. Everything I love is on there.
---
 ✿◕ ‿ ◕✿ My Promise✿◕ ‿ ◕✿

I promise I will not be late sending anything out, I will do my very best to make sure that I do my research and make sure my partner will really enjoy their items. I will rate fairly and I will never give a bad rating without PM a person first to see what happened. I hope you will do the same for me. I understand that sometimes life can cause issues so I will not jump the gun on negative ratings, I will always let you know I have received you items and how much I have enjoyed getting them, and for me this is all about fun and making someone's day so if at anytime I do something that is considered in bad taste please PM me so I know that I did something wrong. I will not be offended.
---
♥♥♥All of the places that you can follow me♥♥♥ Just click on any of the links: Goodreads Pintrest Etsy Instagram Twitter OwlbeArtsy Facebook page
♥♥♥I would love to follow you also, send me a message to any of your links and I will follow you♥♥♥