I have just discovered Pocket Letters and would LOVE LOVE LOVE to swap them! If you'd like to please let me know
Hello friends! My name is Kaela, I'm 27 and I live in the Minneapolis, MN area. I'm originally from a small college town about 2 hours south of here and I'm loving being in a large metro area. I'm married and we have 2 dogs and 2 cats. My husband used to be in the military and my biggest regret is never getting to live abroad, I still hope to! "My" dog is a black and white great dane. He's a goof and a lovebug, I am that crazy dog lady. I'm relatively new to crafting and swapping and so far loving it and very excited to delve into more projects =) I used to knit and crochet, but lost the knowledge somewhere along the way...but would love to get it back. I LOVE to cook. I am always trying new to me spices, flavors and cuisines. I also enjoy reading. I have really enjoyed Gyllian Flynns books and books by Poppy Z. Brite. My favorite books to date have got to be the Outlander series by Diana Gabaldon. My second tattoo is of the phrase "Je Suis Prest". I am not offended by nudity or swearing, but will never include any unless I see it is okay or is swap related out of respect.
LIKES
I love reading historical fiction, paranormal themes. Any and all mysteries but especially those involving animals, inns and innkeepers, and small shop and boutique owners.
Moths, bees, beetles.
Squid and octopus
Alice in Wonderland
Metallics (bronze, silver, gold and copper are all equally liked)
Paper (cardstock, scrapbooking, patterned, plain, stationary)
Mounted and Unmounted Stamps
Hiroshige and like art styles
Stickers, bows, gems, paperclips, clothespins, ribbons and just about any embellishments
Postcards, any and all!
Betsey Johnson
Architectural images and blueprints
Tea, loose bagged iced hot...I am an addict. I have a cupboard overflowing...mostly loose tea. I am not adverse to loose tea samples. I am also not picky about flavors rooibos being the exception.
Art Nouveau style...anything!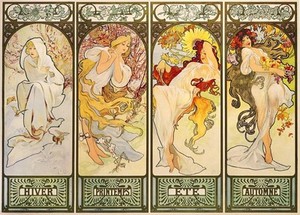 Chocolate. Milk chocolate or white preferred but dark is also scrumptious when combined with other flavors such as nuts, candied citrus peels or dried fruits etc.
DISLIKES
Religious depictions of angels and images of babies (fantasy is fine)
Frogs & Lizards
Clowns
MOVIES AND TV
Charmed, Supernatural!, Buffy the Vampire Slayer, Parks and Recreation, The Office, Archer, Bob's Burgers, Bates Motel