Things I like/collect are:
♥ KAWAII! (Special section on this below!)
♥ Fun socks
♥ 80's/90's Lisa Frank designs (I dream of eventually having an arm sleeve of Lisa Frank tattoos) !
♥ Earrings (not a fan of gold tones though - sorry if that's picky)
♥ Cats - I was born a cat lady from the start!
♥ Penpal supplies such as:
Modern or kawaii stationary

Nice pens, add such as Pentel Starburst pens!

Washi tape

Deco tape

Decorative duct tape

Cute/unusual shaped sticky notes
♥ Stickers! Flat, puffy, holographic, glitter, flakes, whatever! Just please don't send me teacher/reward or little kid cartoon stickers (unless kawaii). I prefer stickers like Stickos and similar.
♥ Rubber stamps (used ones are okay!)
♥ HALLOWEEN items!! My favorite Holiday! Vintage Halloween, Halloween items from other countries and depictions of witches would be especially appreciated, but really any Halloween is good.
♥ MOONS and other celestial things (I'm really into galaxy print right now). I seriously love the moon though. I have always felt very drawn to it. I recently got a crescent moon tattoo on my neck and I LOVE it.
♥ Stones, Crystals, Amulets and Talismans. I have a particular fondness for amethyst, onyx, moonstone, rainbow topaz, citrine and druzy agates among others :)
♥ OWLS: My spirit/power animal. My home is scattered with them :)
♥ Oher Woodland Creatures: Deer, Foxes, Wolves, Rabbits, Turtles, etc.
♥ Pandas
♥ Luna Moths
♥ Butterflies
♥ Trees of Life
♥ Mushrooms
♥ Sea glass, sand dollars, pressed flowers, feathers (washed please =p) and other beautiful, natural things from the earth. I really enjoy earth-centered things.
♥ Interesting/Unusual home decor/knick knacks from your home country-if you're an artist this can definitely include Art by you. I love to hang unusual pieces on my walls.
♥ Spiritual Native American items, Pagan and/or Wiccan items, Hamsas, Buddhas, Lucky Cats, I love The Green Man...
♥ Unique and/or handmade jewelry (Personal preference to silver, bronze, gun metal or mixed tones over gold tones)
♥ Ornaments for my Halloween tree!
♥ Ornaments for my Yule tree! (Including round ones, or "Witch Balls" as they were referred to in the old days)! I also Looooove Santa Moons!!
♥ Michael's Dollar bin items (I live in BFE and trips there are a rare treat for me!)
♥ Target Dollar Spot items (I live in BFE and trips there are a rare treat for me!)
♥ Fun shaped plastic confetti
♥ Refrigerator Magnets
♥ Bohemian themes
♥ Laurel Burch
♥ Tie Dye and Ombre prints
♥ Pretty much anything from Earthbound Trading Co. or Gypsy Warrior
♥ Rorschach Inkblots
♥ Old Phrenology charts/models
♥ Charts, Drawings and/or Art relating to moon phases, constalations, zodiac, palmestry, etc.
♥ Orgonites! Someone recently sent me one and it was so rad! I would have never otherwise thought to add that to my list.
♥ Sugar Skulls
♥ Tarot cards
♥ Edgar Allan Poe
♥ Frida Kahlo
♥ Michael Jackson
♥ Aeromatherapy lotions, oils, scrubs, etc. I DO NOT HAVE A BATHTUB, JUST A SHOWER STALL SO PLEASE NO BATH ONLY ITEMS.
♥ Aveeno, Burt's Bees and other natural products
♥ Face masks
♥ Scarves, especially long infinity/figure 8 scarves.
♥ I'm an Aquarius, so I would love to receive anything having to do with my sign.
♥ Windchimes
♥ Cryptozoology, like Mermaids and Unicorns.
♥ Dinosaurs
♥ Super Mario Brothers
♥ Clovers/Shamrocks
♥ Fruit (designs, patterns, smells, flavors....)
♥ Fair Isle prints
♥ Playing card suits patterns (as in spades, clubs, hearts and diamonds). Not decks of playing cards, per se, as I have plenty, but I like things with that pattern.
♥ Celestial Seasonings Tea
♥ Candy & Snacks:
Anything Willie Wonka
Lindor, Lindt, Dove, Milky Way chocolates
Skittles, Starburst, Twizzlers, SweetTarts
Chips
Cakes

those little blue tins of butter cookies OMG

Favorite colors in general are Green, Purple, Aqua and Black.
For nail polish, I like many colors. I tend to prefer colors that stand out as a bright or dark color. I'm fair skinned so pastels and light pearly colors don't look as good on me.
♥♥♥HALLOWEEN♥♥♥
MY HUBBY AND I AT A ZOMBIE PROM FUNDRAISER THIS LAST HALLOWEEN. WE WERE CROWNED ZOMBIE KING AND QUEEN LATER THAT NIGHT.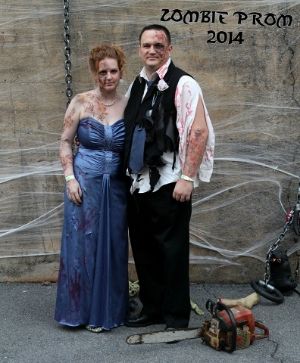 ♥♥♥HALLOWEEN♥♥♥