Swap-bot Stuff
Swap-bot on the World Wide Web
Become Swap-bot's friend on MySpace!
Are you a member of Facebook? Become a fan of Swap-bot or join the Swap-bot group.
Would you like to know whenever a new swap is created? Follow Swap-bot on Twitter and receive a tweet for every new public swap.
On Flickr, view or add images to the Swap-bot.com Swap Items Pool and Swap-bot's Faces and Names Pool. Also on Flickr, when you upload a Swap-bot photo, give it the "swapbot" tag and it will show up on the main page.
Press Contact
Contact Rachel Johnson at rachel [at] swap-bot.com if you are a member of the press who needs any other info or print-quality graphics.
Badges
Would you like to help spread the word about Swap-bot? Use any of the following graphics on your blog, website, or MySpace page. Feel free to take the images or link directly to them from this page.
350 pixels wide:

300 pixels wide: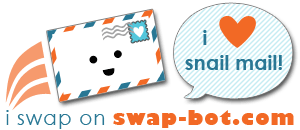 200 pixels wide: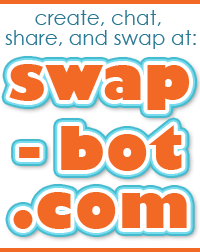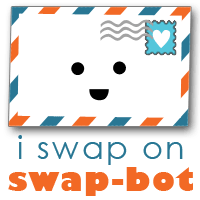 150 pixels wide: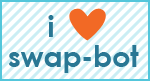 100 pixels wide: