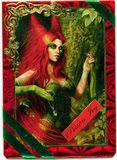 This is challenge swap for using 3 mixed medias or more...card must have a least 3 different ones....
Now it's not as scary as it sounds...
Make 1 atc for 1 partner using 3 different media's..
I am using one of my atc's for a example.. the 3 media's used on it are digital art, stickers, ribbons and more if you look closely...
Media simply means The art material that is used in a work of art.. Describing more then one art medium is referred to as media. Any substance added to color to facilitate application or to achieve a desired effect.
For our swap create your own theme and use any 3 different medias..example buttons, ribbon, digital, pencil,pen, paint, fabric, stickers, use your imagination anything goes,,,