---
FYI - I am the swapper formerly known as cherrythepig & NotCherryPie. Rachel was kind enough to change my name again to make me smile. My friends call me Cherries! & that makes me smile too! :)
R.I.P. Cherry (2004 - 2009)

---
If anyone ever sent me something like this I would be their BFF!
Really...forever. I freaking love this!
The only thing I would want different is the horn - I imagine a unicorn with a more narwhal-line (but shorter) horn.
---
Are you running late in your swap to me? I'm totally OK with that but appreciate it if you let me know before you are actually late, ie, by the send-by date. (After that I'm a little less understanding...)
---
I wish my kittehs could knit!
My current passion is knitting! I adore soft natural fibers.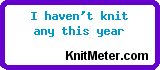 I don't ever use browns, golds or rust and I rarely use pastels. As far as yarn goes...if it's soft, a natural fiber, & a nice saturated color I am sure to adore it!
---

---
(Thanks to Flea for helping me to post this adorable little licking kitteh!)
---
Pimping My Cause - Morsbags!
Check out our Swapbot "pod" to see how your fellow swappers rate.
So you want to add your bags to the Swapbot Pod?
Since the beginning I have allowed pod updating by anyone who asks. You may sign in & change the number to reflect the new total. Please add the bags to the pod numbers only after they are finished. Know that your pod members are trusting you to be honest in adding your number to the total, so please don't exaggerate. (Not only is it dishonest, it's bad karma!)
If I've made you afraid to update just pop me a pm with the number you want added to the pod & I'll do it. If you want to do it yourself, go to the website, then the pod page, then click on log in.
Pod name: swapbot
Password: cherrythepig
Someone has pointed out that because I'm posting the sign-in info here an unscrupulous person could sign into the pod & mess with it. Well, they absolutely could. However...I believe that when people are entrusted to do the right thing, most of them will. If am wrong & someone messes with it, we all lose. So be it.
---