My name is Casey. I am from a small town you'll never hear of, deep in the Appalachian mountains. I'm a mama x3 and newly single after 17 years of marriage. Not my choice but I'm determined to make a good life for myself and find a new normal. A really great new normal.
For now, I stay home while my kiddos go off on their days to school. I spend mine making our home a comfortable, relaxing place to be when they return. On the surface it may seem simple--clean bedsheets or an evening meal together at the table but my goal is to make my babies feel considered and loved with these things. It's not lost on me that spending all day out in the world can be difficult and I feel so lucky to be here feathering the nest for their return. I treasure being a homemaker. In August, I'll close this chapter of my life as a stay at home mom but begin a new one as a full time college student. Wish me luck!
I am a Christian, an avid reader, a thrift store addict. I love to grow things. Tulips, rosemary, irises, tomatoes, azalea. Put my hands in the dirt of a flower bed and I am one happy girl. I write near daily in my journal and crochet almost as often. I love to cook, to feed people. Seeing ones I love push back from my kitchen table happy and full from a meal I prepared satisfies my little soul. Simple things light me up—birds at the feeder, the first daffodil to bloom, a squashy ball of yarn, a stack of books waiting for me to choose.
I'm friendly and easy going.
I like me. You will, too.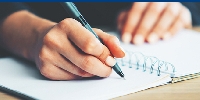 My Swaps
Swapping is very dear to my heart. It is without a doubt my favorite hobby and I have to say I love it. I take swapping seriously. With that being said, if there is ever a time when a swap of mine didn't make it to you, it's not because I didn't send. Sometimes things really do get lost in the mail. All you have to do is message me and I will resend or make it up to you the best I can. A lost swap is disappointing for everyone and it never has to be that way. Atleast not with me. All you gotta do is let me know. Thanks for reading.