My name is Casey. I am from a small town you'll never hear of, deep in the Appalachian mountains. I've been married 17 years to my beloved and we have three children together— a daughter and two sons.
I stay at home while my family goes off on their days to work and to school. I spend mine making our home a comfortable, relaxing place to be when they return. On the surface it may seem simple--clean bedsheets or an evening meal together at the table but my goal is to make my family feel considered and loved with these things. It's not lost on me that spending all day out in the world can be difficult and I feel so lucky to be here feathering the nest for their return. I treasure being a homemaker.
I am a Christian, an avid reader, a good listener and an honest friend. I love to crochet, cook and fiddle around in my flower beds when it's pretty out. I have kept a journal since I was big enough to write a sentence and I love penpaling. I am easy to talk to and down to earth.
I like me. You will, too.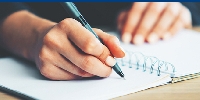 I love, love, love to write letters. Sitting down at my kitchen table in the quiet of the evening to write a friend is so relaxing for me. My letters are always hand written and I try and always use pretty stationary.
My Swaps
Swapping is very dear to my heart. It is without a doubt my favorite hobby and I have to say I love it. I take swapping seriously. With that being said, if there is ever a time when a swap of mine didn't make it to you, it's not because I didn't send. Sometimes things really do get lost in the mail. All you have to do is message me and I will resend or make it up to you the best I can. A lost swap is disappointing for everyone and it never has to be that way. Atleast not with me. All you gotta do is let me know. Thanks for reading.