Have patience with me, my profile is under construction
I'm a 34-year-old mother of 4. I have a wonderful boyfriend and several pets. I work at our local university as an audit and compliance coordinator.
My heart is owned by a dachshund named Abigail Marie (Abbey), a corgi named Sammy, a ferret named Bri, and a couple of Betta fish too!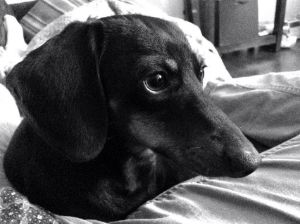 Abbey
In my spare time I like to read and I also watch a lot of TV (too much!) and I dabble in mandala coloring.
I love taking photos and am always photographing weird things. Below is one of my photographs.