To anyone I have sent fused glass swaps to, if it breaks on its way to you let me know I'll make you another one. Hasn't happened yet but sometimes glass just breaks.
Glass starts out as a thousand grains of sand and ends up as sand. It breaks its not the end of the world it nature going back to nature.
Here are some photos of things I've made.
Fused glass sugar skulls.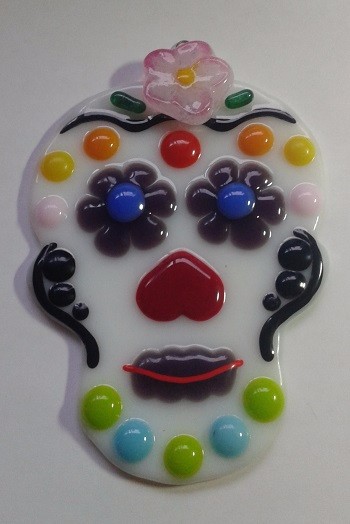 Feather Doll.
Altered Spoon.
Button Fairy
Gizmo the Clown second pic is Miss Gizmo his wife. Miss Gizmo is a doll I promised I would make for a friend of mine who did this circus act.
Circus Twins.
Day of the dead doll made for a friend in their favorite colors. I love her hat!
Various little houses..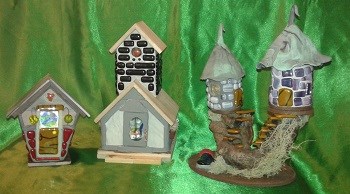 Pretty much my 1st Dotee doll whimsy style.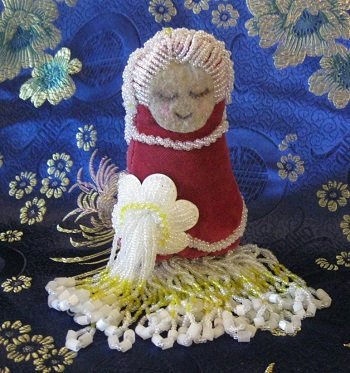 A set of beaded medicine bags full size and mini. The large bag got second place at the fair my older brother got 1st place and grand champion.
A beaded wooden box, beaded bottle and large beaded crystal.
Naked wood nymph
Grace
Needle book for a swap
This is my addition to public art. Stonehenge is on my property by the road so everyone can see it.
Hello, My name is Andi and I joined swap-bot because my daughter is here @smadronia I know she enjoys it a lot and I love to send and receive mail so it sounded like a fun place to be apart of.
This is the only profile I have filled out anywhere online. I'm am old hacker but not big on social sites. I make a good hermit. I'm in my real late 50s ooops time to update this I cant make this claim anymore. I'm an old hippy and I live out in the country with my cats. Its not too far from the big city but we can get stuck at home by flooding at times. We also tend to lose power several times a year. I say this just in case I'm late mailing something which I hope will not be the case. I'm one of those people who still has not stopped smoking cigarettes (yes I know I'm bad) and if you're a smoker or not I will make every effort to not send cat hair or items that smell like smoke. They might smell like fabreeze or dryer sheets however. It would depend on what was sent. Please don't condemn me because I smoke I know its a nasty evil habit. I'm working on it.
I come from a long line of artsy crafty folk and have had so many hobbies I've forgotten half of them. I love to make and create things and as I said at the start I love to send and get mail. As it says above my human child is already a member of swap-bot and lives in another state so sending me goodies for her is pointless.