I'll like anything you can send that doesn't cost you much to ship! For example...
Cute stickers (modules - from those sticker strips like Sandylion or Mrs.Grossman) or sticker sheets

Vintage 80's stickers - sheets or even

Kawaii memo sheets (loose, any size, shape, character or brand - I don't use them, just like collecting them!)

Sticker flakes
My favorite Kawaii character is Gotochi Kitty, otherwise known as Regional / Local Hello Kitty.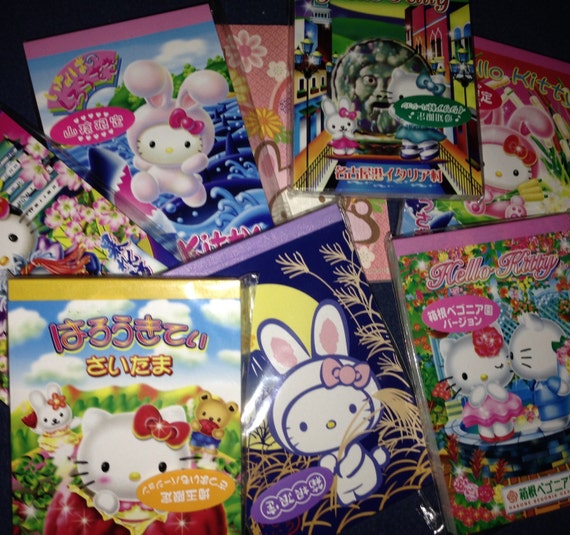 I like pretty much all Japanese Kawaii and love being introduced to new styles / characters
Jewelry making supplies like lobster clasps, wire for making beaded bracelets, earring hooks (silver-toned), earring head pins (silver or gold-toned), or those small silver crimp beads for the ends of bracelets / necklaces

Embroidery thread, any color at all

Postage stamps from your country on the envelope you send me :)

Decorated envelopes - I love seeing your creativity! It's all going in my Swap-Bot smashbook :o)
POSTCARDS
I'm the Group Founder for "Free Postcards 'R' Us' which is a postcard group for people who enjoy sending and receiving free postcards (handmade, freebie / ad, upcycled notecards & greeting cards, cardboard packaging, etc.)
I love receiving naked (written on, not in envie postcards). If at all possible, please use different stamps, rather than the standard Global Forever stamp. I love US stamps and would love to see more of the variety that is out there!
If anyone wants to send me any interesting blank freebie / ad postcards, I'd be happy to take them. Either for myself or to use in swaps!
Topics you could write to me about (just ideas off the top of my head here....)
Your favorite movie
Describe the view from your window at home
Tell me about a funny / nice / interesting / sad / frustrating thing that happened to you recently
Tell me about a typical day in your life
Where have you traveled to and what are some of your favorite places in the world
Do you believe in reincarnation? If so, what do you think you were in a past life?
If not, what historical figure or past culture do you feel a strong interest in and why?
Have you ever seen synchronized swimming and if so, what do you think of it?
THEMES
Snoopy

Pegasus / Unicorns

Matryoshkas

Kokeshi dolls

Synchronized swimming, for example, vintage books, or magazine clippings, or postcards, sometimes you even see synchro stamps from different countries. I also collect synchronized swimming pins.
FOODS
Kool-Aid (I can't find it in Germany)
FAVORITE COLORS
blues, greens, magenta, burgandy, royal purple
MISC. ITEMS
Things I don't mind receiving if you are having trouble figuring out what in the world to send me:
Handmade envies

Cute Band-Aids

Loose Stickers (cute)

Stretchy cord / leather cord for making bracelets

Girl Scout Badges / Fun Patches