I'm BACK!. At least sort of! Looking to swap some quilt squares and other crafty thangs. I've missed you!
I'm a joyful, crafting mom of two, married for nearly 7 years. I work for an Craft Store Minneapolis. Knitting, crafting and blogging fill in the spaces between parenting and working.
I'm pierced and tattooed, I stretch my earlobes, etc. Also, I have an edge. I am quite opinionated, liberal and vocal. Don't ever worry about offending me - I love the subversive, strange and questionably tasteful. I do wear my heart on my sleeve, but I have a take me or leave me attitude. Most people take me. :D I am quite interested in the paranormal, fancy myself as an amatuer ghost hunter and paranormal buff. I am a Cancer, very moody, but very much a caretaker, which is why I am so empathetic, and sensitive to the souls of the living and the departed.
My two daughters are my everything. Sophia is a passionate 12 year old aspiring writer and will read just about anything. She loves Dr. Who, Invader Zim and The Mysterious Benedict Society. She isn't into mass-marketed preteen schtuff (Hannah Montana, et al.) She is collecting snowglobes from all over the world. Rosa is my spunky five year old. She loves Squinkies and Legos. She loves to dance and climb and generally cause trouble. I never have enough socks for her! There is no cuter baby than my Hobbit. (see my avatar!)
My husband is an audiophile, a musician and an ol trusty member of the Minneapolis Music scene. He is an enabler too, and is a great help with my crafts and swaps. He has driven me across town to the airport post office to try and win a round of competitive knitting.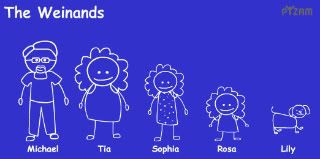 Most importantly, I am a GREAT swapper, if I do say so myself! I tend to spoil my partners, not to get hearts, but because I insist on sending things I would like to receive. I've never flaked here or elsewhere on any swap and I don't intend to start! If you have me for a swap and things get out of hand, just let me know. Life happens, and I'm more than happy to work with my partners to make sure we both have a good experience.