Round one was so much fun! Let's get to round 2!
I'm loving making quotes for the quote jar swaps and decided to make a Journal Jar to help me with ideas for writing in my journal. Sometimes I just get writers block and need a little inspiration to get me started. Here's where this swap will come in handy!
ONE WORD PROMPTS
We will do 10 This time.. And since it's only ONE word prompts make them as inspiring looking as you can.. Maybe mat them? Write them in a fancy font? Use colored pencils and highlighters? Stickers? Paint? Make them as inspiring to look as as they are to read! Not TOO big because they need to fit in our Journaling Jars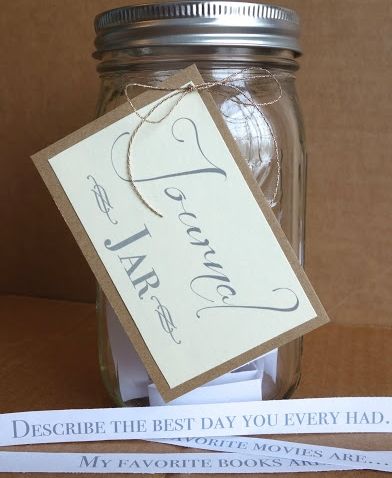 What we'll do: We will each have 2 partners to whom we will send 10 Journal Prompts
Examples:
*August
*Fairytale
*Chaos
*Unbreakable
Etc
I'd LOVE to see some creative prompts - Not your everyday average type prompts! Alright .. ready... set...get prompting!!
Important Stuff:
Please remember to rate your partner. We work hard on these swaps and our ratings are important to us. Please don't forget. I don't want to have to chase after people to post ratings for their partners. It should be easy. Receive a swap, post a rating.
No 1's or unresolved 3s. If you are late on any past swap that have not been resolved, you will be removed from this swap. You must have a 4.97 rating or higher.
SWAP WITH CONFIDENCE! I will ALWAYS angel any swap I host if you get flaked on! 100% Guarantee