March 1st is National Pig Day (who knew?), so let's send each other some cute pig artist trading cards. :)
You can draw or stamp or collage a pig image, or use this one (sized, of course, to fit the ATC card stock standard of 2.5" x 3.5").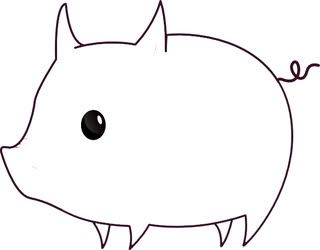 Feel free to zentangle, paint, color, sew, or otherwise add elements to your pig. NO STICKERS PLEASE.
Newbies are welcome with a filled profile. If you are new to SB or to ATCs, please join Newbie Helpers and read the stickied thread on Artist Trading Cards.
There's no rating requirement on this swap, but I will thoroughly check every profile a day or two prior to assigning partners.
Send on time. If you send late, your partner has the right to rate you a 3.
Rate promptly and accurately. Don't make your partner chase you down for a rating.
Communicate with your partner and host if there are problems.