Flipbooks are lovely little creations we make to correspond with others. They are fun, inspiring and full of creativity,
Here is a video of my favorite Flipbook maker on Youtube- her tutorial is easy to follow!
https://www.youtube.com/watch?v=8T_mnDNlCcU
Use double-sided patterned paper (or you can glue single-sided patterned paper back to back to create double-sided) - You will have three pages in your flipbook.
Cut each paper into 4x6 pieces. Lay them out leaving a slight space between them and use washi to make your book.
Be sure to use washi on both sides to reinforce your creased edges.
You can create smaller "flips" in your flipbook if you wish. They are fun and you can see how Filiz does that in her youtube tutorial I gave you earlier.
If you need inspiration - There's lots of fun images on Pinterest and youtube.. and Instagram!
Once you have your three pages washi taped together you are ready to decorate!! - choose a color or a theme and get started. Use your stash! NO STICKER SLAPPING - this is for a nice flip-book for your partner. If you want to wait until partners are assigned to see their likes that's great, if not, that's fine too as this IS SENDER'S CHOICE
Be sure to check out the tutorials on youtube and look at pinterest and instagram - you will see lots of them there and will be inspired! Use your diecuts, chipboard letters and shapes, photos, project life cards make for excellent extra flips! Stickers, page flags etc.. The list is endless!
You can make pockets, small envelopes and add them as well! These are excellent places to tuck your letter, maybe a mail tag and some extras for your partner!
Please include "goodies" for your partner - things such as project life cards, stickers, diecuts, punches, washi samples, clips etc...
Questions? Please message me! @ScrapHappyGabi
ENJOY!
(image is mine)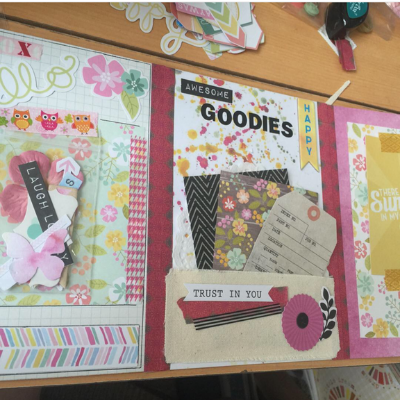 Swap with confidence - I always angel my own swaps!