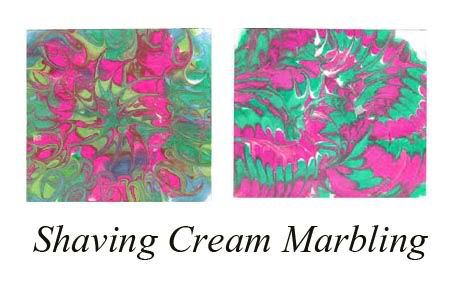 by Carol Hough
What you will need... Materials:
can of shaving cream,
tempera paints,or watercolors, inks you may experiment with your choice
paper plate
brush or comb and toothpicks work very well
piece of poster board or cardstock
precut atc or cut cardboard to atc size,,,here you may to wait and cut out your atc after coloring so you can use the best places
sponges or paper towels for clean-up
Layer about 1 inch of shaving cream onto a paper plate or tray
Level it out with a piece of cardboard as a scraper
Using your choice of paint. Paint directly on top of the shaving cream.
then using the back of the brush or a pointed stick or tooth pick. Swirl the paint. Do not push it down deep into the shaving cream. The paint will stay on the top.
Lay paper on top of the design and press down (printing technique). Pull the paper off. The shaving cream will appear to be all smeared but wait.
Use the piece of poster board to squeeze off the excess shaving cream. Like magic the design stays on the paper.
You can reuse the shaving cream until it gets drab. Just mix it in and paint again and again
and if you do a Google search you will find many different sites that use this technique some may even have videos
1 for 1 and have fun