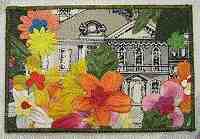 ---
Take a purchased postcard and alter it by (1) affixing at least one piece of a silk flower (not stems or leaves or calyxes or stamens, etc.) to it AND (2) adding a caption (serious, funny, whatever you like).
By "silk", I mean any artificial flower, like the ones you can get at dollar stores.
By "at least one piece", I mean that you may take the flower apart and use one layer of the flower, cut out just one petal, or use whole flowers if you can find a way to make it suitable for mailing "naked". (";)
Just because we are using silk flowers here doesn't mean that the subject of the PC must be flowers. Use your imagination and have fun with the alterations!
Please send your PC "naked" (if you prefer your PCs in an envelope then perhaps this isn't the swap for you).
This is open to all SB members in good standing, including newbies with fully completed profiles, and I reserve the right to drop anyone I may have concerns about.
Please note that I screen carefully after sign up and you can find further details on my profile page. However, if you have any concerns in the meantime, please pm me.
Have fun!