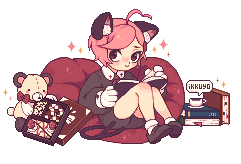 Hi hi. My name is Trinket here on Swap-bot. Though to everyone who knows me better, I am Steff. Im a 35 year old self employed illustrator from a small place called Norwich in England. What that means is that for most of my time, i live in a small craft lair building plushies and drawing interesting pictures. I am never far from my Mac even if I am not always about on Swap-bot. I'd like to sit in the chat room more often though. I am an avid World of warcraft player (horde all the way!) When I aren't busying myself with plushies, drawing or warcraft, I am often Roleplaying with my partner. I love my Live Action Roleplay, which is effectively a bit like Lord of the Rings in the woods with fake weapons, where we make up adventures of our own and are all in fantasy costume.
Here on swap-bot I get stuck in to a number of different group swaps. Though these days I do shy from public swaps, occasionally they do tickle my fancy. I'm very much into crafting ATCs and most of the swaps I join now tend to be ATC themed ones.
Im a big mixture of interests from my roleplaying to simple things ATCs and Inchies.
My Favorite Colour: Teal and Purple
Some themes I like in swaps: Happy Mail, Foxes, Forests, Autumn leafs, Pokemon, Kawaii, Cats, Japan, Stars, Dreams, The sky at night, Strawberries, Succulents, Plants, leaves.

---
Recently I have been interested in wool spinning and dyeing and that takes up a good deal of my none work time. I find the idea of pocket letters facinating but my main focus for mail art will always be small journals, ATC's, Inchies, hidden pockets and other surprises.
Things I personally would love to keep.