Recently edited & now I'm going to list in order of what I'm most recently interested in & collecting. :] Tip: themes are more important to me than types (Scroll down!).
My favourite types of swaps/things to receive are:
1) anything handmade, and
2) a stuffed envelope full of flat paper ephemeras, tags/punches/card toppers, stickers, stationery, paper stocks! I love variety & these types of swaps full of bits and pieces always come in handy and I use straight away for my projects and are always what I reach for.
please don't worry about making me happy. :] I am very easy to please and I am not a picky swapper at all. I'm hard to offend and open minded.
TYPES OF THINGS I COLLECT/SWAP (Scroll further down for themes and detailed collections/things I am looking for!)
MY PREFERENCES -
~ Swaps that are put together nicely, in a decorated or mail art envie. I love it when I can tell that time has been spent on putting the swap together and my profile was read. This is what matters to me the most, more than any amount of extras.
~ Anything handmade... I am really into swapping paper crafts at the moment and is what I am enjoying the most. Any paper craft, painting, illustration, drawing, doodles, crochet or knit piece... Anything from you is very welcome :)
~ ephemera / destash / stuffed envies; with these swaps I like to see a variety of things. I keep these types of swaps in their original envelopes and use them as inspiration packs for projects. I like to receive variety with these types of swaps. Jumbled up envelope destash swaps are my favourite, don't worry about sending me lots of different bits and pieces - this is what I love!
~ ATCS - I love ATCs in themes of my favourites (see below). I prefer ATCs I receive to be on sturdy, thick backing and don't like bendy or flimsy card(and a number of times ATCS received like this often get damaged in transit)
~ Pocket letters - I like pocket letters using any themes or without a theme. I really like it when the outside sleeve is decorated by the sender and the pocket letter is used as a project rather than a quick, easy way of putting bits of paper inside the pockets. I love to see decorated, altered, colourful pocket letters.
~ postcards - I don't do many postcard only swaps but I do like to receive blank, non touristy postcards in swaps. I like any stock, photography, quotes, typography/word art, architecture, travel, any of the themes I like listed below.
~ letter/penpal swaps - I prefer handwritten only and long. I don't like to receive penpal letters that are as long as a note. Please don't rush and only send me one or two pages, especially if it is going via international post... I see it as such a waste if you only send a very small letter or long note.
~ Childrens book ephemera Any cut outs, die-cuts, postcards or full pages from children's books. I love vintage or modern ones. Love vintage annuals, fairy tales and ephemera, Baby letter books, ABC's, picture books, playing cards/flash cards, spelling books, nursery rhymes, dr Seuss, Richard scarry, Beatrix potter, enid blyton, Roald Dahl, The Very Hungry Caterpillar, Walker books Pop up books, snap cards, Old maid cards, finger puppet books, Eric carle Vintage or modern. Vintage I love richard scarry, vintage disney, Dr. Seuss, Ladybird, Golden book, nursery rhymes, etc. Modern I love Colin Mcnaughton & animals. Book plates, cut outs, die cuts, book pages, book marks, posters, pictures, stickers.
~ Printed card stocks, printed/decorated papers, paper samples - Any of these, big, small or tiny; any printed, coloured papers, anything I can use for smashbooking or ATC's. Any prints/decorations.
~ Craft supplies - rubber stamps, transfers/rub-ons (even tattoos, do the same job!), card backs, paper stocks, ribbon, stickers, glue dots, card toppers, embellishments. I love these sorts of things, aka "supplies"
~ Happy/Bright Themes anything positive, happy, bright, colourful.
~ Washi/deco tape samples. I use washi tape for my mail art and I can't get enough of it. :)
~ Smashbook & project life supplies. Smash kit, journal cards, alpha letters, etc
~ Card toppers, embellishments, etc - card making supplies I use for a variety of projects especially ATC's so I love little card bits of ephemera.
~ Book pages or cut-outs Of any type. I would love full pages or half pages from any books or high quality including vintage, picture books, history, travel, random books modern or black and white, foreign, childrens books, architecture, fact and fiction.
~ Tea. I love tea. Tea I like: White tea and black tea. Tea that you don't add milk with. My favourites are not very strong flavours. I like fruit tea but only flavours like peach, apricot, white fruit, orange, lemon. I don't usually like fruit teas that are really dark and strong like fruits of the forrest or blackcurrent usually because it doesn't taste like tea, just hot juice. If you have a strong fruit tea that tastes very much like tea, then I will like it, lol. My absolute favourite teas are GREEN TEA, OOLONG, WHITE TEA flavoured GREEN TEAS, flavours like peach, cherry, mango, lychee, vanilla. I also like Earl Grey, English breakfast, Chamomile, . -Please no loose tea, rooibos, chai and other spicy teas. Not really a fan of mint, either. I tend not to like those sorts of tea. I won't be angry or anything if you send these, I will just pass them on. - I do not mind tea that is not in a sealed packet, for example if you bought boxed tea and it is separate individual bags. As long as you put it in some sort of foil, cling film or zip bag, and a label of what it is, I don't mind it not being separate individual bags. - Absolute favourite brands are STASH and PICKWICK.
~ Old black and white vintage photos or postcards.
~ Small smashbook, junk journal, ATC, etc supplies e.g the size of a card or smaller. I love tiny pieces. ATC blanks and supplies, small and tiny cards, off-cuts, paper scraps, small/mini ephemera pieces. I love small pieces and do lots of ATC's
~ Pretty magazine articles/pages. I love oh comely, flow magazine, frankie, daphnes diary and lots more. I love the craft magazines, arty types and quirky/different fashion/lifestyle. I am not a fan of gossip celebrity or beauty magazines aka the popular ones.
~ Paper & card ephemera of any kind, inc. stamps, documents, book pages, random bits & pieces, papers, vintage, memos, playing cards, spelling cards, stamped rubber images, transfers, postcards, bookmarks, card blanks, attractive card and papers, ATC blanks
~ Travels anything to do with travelling and ephemera from other countries. I love ticket stubs, museum and exhibition information, tourism guides, postcards and anything to do with Europe.
~ Paper that is printed or patterned that can be used for crafts, paper and card stock, wallpaper samples and high quality magazine prints
~ Small notecards or blank postcards I use these for my info when sending swaps.
~ Mixed media items; Beads, scrabble pieces, jigsaw pieces, bits of fabric, ribbon, doilies, bottle caps, anything unusual and vintage, buttons, etc. Jewels, tags, beads, anything!!!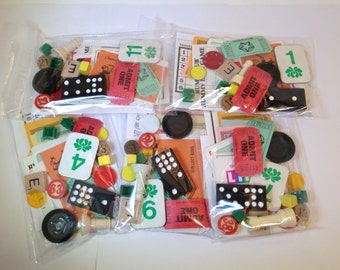 ~ Used stamps, snail mail themes and letters. I cut stamps from every swap I receive. I love vintage, animals and random stamps. Airmail, snail mail and penpal themes. I also love to write and receive letters.
~ *Kawaii/cute japanese stationery, paper, pens - san-x, sanrio, q-lia, pool cool & anything hello kitty, my melody, food/drink sanrio.
~ Mail art - i love handmade envelopes even if they are just made from paper, or magazine articles. i prefer to see mail art than regular envelopes from you :)
~ * Disney & Pixar - favourites include disney princesses, finding nemo, monsters inc/university, disney animals.
~ * Funny / humour. Off the wall, silly, weird, wacky
THEMES I LOVE AND SPECIFICS I COLLECT! Choose a theme and send me anything from that theme and I will be happy. :)
~ Birds, stickers, papers, postcards, memos, bird facts, pages from bird books, anything with birds. Any birds; birds in your back garden to penguins, flamingoes and owls.
~ Woodland animals, Fox, badger, owl, bear.
~ Whimsical/Pretty/Shabby chic E.g cath kidson, emma bridgewater, Paperchase, Flow magazine & Daphnes Diary magazine
~ Happy & positive quotes, cute/happy, bright colours, smiling animals, etc.
~ safari animals, elephants, giraffes, lions, cute or realistic, drawn or cartoon, illustrations, stickers , papers, etc. influences from India and Africa
~ Colours, Pastels, pale colours, pink, green and watercolours.
~ Reading/books, I would love to receive any book recommendations/reviews, bookmarks, book plates, etc. I have been a book worm all my life. I read everything fiction, non fiction, historic, biography, chick lit and crime thriller. I have a goodreads account here
~ Pregnancy/baby/child, I am pregnant so anything in these themes is welcome. :)
~ Animals, Wild, Zoo, Big cats, Animated/cartoon/illustrated, Cute, Fish, Birds, Wildlife, Bears, Giraffes, Elephants.
~ Prints & patterns, Polka dots, hearts, stripes, symbols, swirls, anchors, strawberries, solid colours, animals, triangles, rainbow, watercolour.
~ Beach & sealife, e.g, sea, anchors, fish, shell themes. mermaids!
~ Pretty words, letter and word art and quotes e.g, word art / quotes, typography, clippings, cut outs, poems.
~ Floral prints and nature/flowers in general. Please don't go crazy on the butterflies... I'm not too fond.
~ Buddhism quotes, pictures, motifs and yoga.
~ Art; Collage, paint, illustrations, doodles, paper crafts, watercolours, gelli plate prints, smashing, cut and paste, watercolours, rubber stamping, rub ons & transfers
~ Artistic and pretty photography.
~ Whimsical themes.
~ White lace
~ Childrens book characters - old/vintage or contemporary monsters, animals, etc
~ Cartoon/illustrated animals.
~ Unicorns, magic
~ Pixies, mushrooms, fairy tales.
~ Tea cups, pastel colours, macaroons, owls, "hipster", "dainty" and "kawaii" motifs
~ Mermaids, mystical life
~ Circus, especially vintage but ANYTHING circus themed. Freak shows, cabaret, vaudeville, Big Tops
~ Cultural studies & antropology - tell me about your culture, your lifestyle, where you live, and anything themes to do with culture and life.
~ Jane Austen
~ Beatrix Potter
~ Magazines. Paperchase, Flow Magazine, Daphnies Diary, Frankie, Oh comely, Hunger - Not fond on gossip/celebrity/fashion magazines unless high fashion. I also love pages from free / ad magazines/leaflets which can be cut up & used in collage.
~ History. My favourite period is the Tudor times, English monarchy/royals, any British history and the ancient Greeks. I love world history, but British and ancient greek history is my favourite. I love to receive ANYTHING with any history behind it and I am happy to receive anything history related, though, British or not! An old photo you found at the thrift store, book pages, vintage ephemeras, an historic article/story, a letter from you about your favourite period/time in history, a museum or gallery you love, history of buildings and architecture! I LOVE castles, old historic buildings, black and white photographs, fables and Greek mythology
~ Art. Any type of art - I am always at exhibitions and I love it ALL. but mostly I am interested in fine art, scupture, architecture, fashion, photography and design. Both modern and 17th, 18th and 19th century. I am particularly in love with Monet, Antoni Gaudi, Mario Testino and I love tudor/victorian old art, gothic art AND modern art. I am obsessed with anything on tudor/king and queen! I also love fashion and beauty photography and anything to do with high fashion models.
I very rarely do package swaps but in the off-chance I do, here is what I like that isn't flat:
Make up, beauty & tolietries inc. bath goods and supplies. Inc. make up: all products & brands both high street and high end, brushes & beauty blenders, lipbalm, lipsticks, eyeshadows, mascara, etc., perfume/body sprays, mini bottles/samples, face masks/skin care, bath bombs/salts/balls, flannels & face cloths (i love muslins)

Home decor items & candles

Bookmarks/book plates

Scarves (pretty silk/cotton ones)

Journals/stationery/rubber stamps & craft supplies. I love pens!

Anything in the themes I like

Things for my baby (clothes/toys/anything pregnancy or baby related)

Tea and coffee sachets

Healthy food & snacks. I am not vegetarian/vegan, and have no allergies. I usually am interested in healthier options, vegan/vege/dairy free. I love trying new things.

Trinkets, decorations (no jewelry please)

Hair ties & bobby pins. I don't wear headbands or bows or anything, I'm pretty boring when it comes to it! I am looking for those "good for you" hair ties, the ones you can also wear as bracelets and that don't pull your hair out.