As your swap hostess, I am meticulous about being accommodating and fair. If you have the desire to share, please come join my swaps. If you join my swaps and don't send, you are unwelcome in my swaps. Flaking is poor form, and a lack of common courtesy. I have a zero tolerance policy.
Please come join me in any of my swaps that interest you enough for you to follow thru with time & care. I consider the people in my swaps and the people I swap with my friends.
Swapbot IS a bot, but I am a real person here. And I work hard to make sure everybody gets to have fun. Please treat my swaps and your swap partners with the same respect.
If you don't receive something by 2 weeks after the 'send by date' (more if international) then contact me immediately! Once you rate your partner a 1, no-send, if they are still unresponsive to their commitment to sent their end of the swap, I will get busy making you a swap package to make up for the swaplifter. Please don't flake my swaps!

If you have an unexplained/unresolved 'no-send' you will not be able to join my swaps. I know life happens and gets in the way. But nobody wants to be left out. I do this out of consideration for the thoughtful & talented people who do make swap-bot the great place it is! Thanks for your understanding!
I know unforeseen events can happen to derail our best laid plans. I am an understanding person and *as long as you are honest and forthright with me there is no problem.
No unexplained no-sends means you haven't left any kind of message in the response portion of the rating. If someone is going to rate you a 1, you at least have to go say SOMETHING-like 'sent, cannot resend', or 'postal problems', 'dog ate swap, remaking', 'sent 3 times will send again', or 'unfair rating left by jilted lover,'SOMETHING!!!
If you have any recent ones, I cannot let you in the swaps. It's just the way it is. I apologize for not allowing you in the swaps but these are the rules I have made for my swaps to keep them running smoothly and everyone happily receiving.
Even if I say this isn't a profile specific swap, please add something about yourself on your profile. A few words do not count as a filled out profile.
If there is a request in the swap description for you to add some info to the comments section, please do so before I assign partners or I may ban you. You will be hard pressed to find any reputable swap hosts around here who will accept a blank/inadequate profile. There is nothing worse than being partnered up with someone who doesn't have word one on their profile. Thanks for your understanding.
As always, I offer to private swap with anyone banned from my swaps. It's up to you to accept it graciously or not. I'm happy to swap with you, even if you didn't meet my swap requirements. But it's not fair to everyone else in my swaps if I fudge on the rules.
Hi NEWBIES!
I would love to do a private swap with you to help boost your ratings! Let me know and I can set a swap up!
Check out Swapbot's FAQ Page for great information on how to navigate the swaps and site.
I want to welcome you to swap bot. I apologize for not allowing newbies into many of my swaps.
When I get flakers & swaplifters in my swaps it makes me mad because these are my friends. Flakers, no accounts and the like are not. Don't flake on my friends!
Please PM your partner if you are sending late. It's called common courtesy. I look forward to having you be a part of my swaps.
Here are some badges you are free to use from the Altered Ernie Graphics swap
by @MissU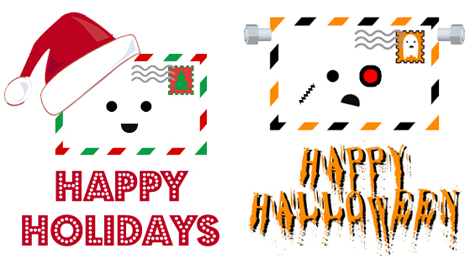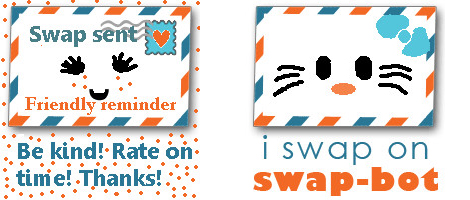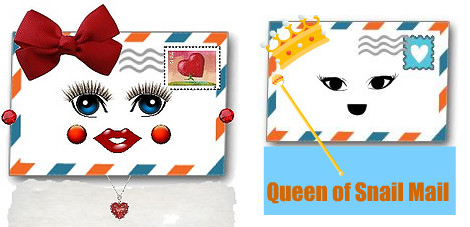 by @mishybelle