Be careful checking my Flickr photos if you are expecting a package from me soon! There might be spoilers! 😉
---

First, I would like to say, if you have not received a swap from me, please let me know! I am very diligent on sending my swaps! If you have not received one, I will do everything I can to remedy whatever may have happened!
I like to try to reuse packaging as much as I can, so you may receive a package that looks like it's made a few trips. 😃






Hello! My name is Laura. I am from Colorado, USA. I have a bachelor's degree in computer arts with a foundation in traditional art. I have been a teacher since 2015. I was a K-12 art teacher 'til Nov. 2020. I am currently a middle school STEAM and film arts teacher for a local charter school.
I love mermaids. In my spare time, I like to play video games, love all things arts & crafts and am currently learning stained glass.
I am a SCUBA diver. My boyfriend and I got our certifications together the beginning of 2016. Our last dive was in Hawaii off the coast of the Big Island for a night dive with manta rays. If you ever have a chance to do that, I highly recommend it! It's also great for snorkelers from what I hear, but I was down at the bottom of the ocean from the SCUBA side when we did it. =) My boyfriend and I have been together since March 2011.



I have 5 swimmable mermaid tails (2 Finfolk, 2 Mertailor, and a knock-off Fin-Fun tail. I am part of a local group that does free events and fundraisers for kids around our local area.
I love the work of Chris Sanders, who just happens to have also worked on several of my favorite movies and was the designer for 2 of my favorite characters (see below). I just love his style. The fact that he also illustrates mermaids doesn't hurt, either. I also absolutely adore art nouveau, mermaid-related or not! Beautiful and flowy!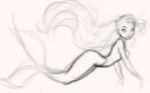 I have 2 cats. Both are bengals, which are hypoallergenic, so if you're allergic to cats, you should be ok! I don't tend to let them in my craft room much anyways. One is a traditional tan/gold coloring with green eyes. The other is silver. They are named after characters in Firefly (Kaylee & Hoban (a.k.a. Wash)). After they developed their personalities, I should have named them Saffron & Jayne... haha.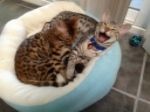 If you would ever like a private swap, just shoot me a message!

---

Seriously... go check out their shops and just TRY to not blow all of your money!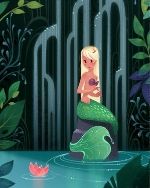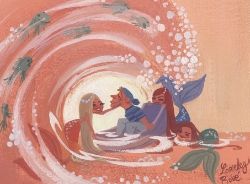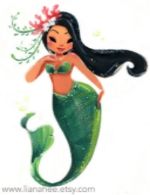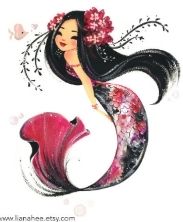 ---