This swap is made possible by the kind permission of @Paige1900 , who hosted it recently in The Postcard Place. (";)
---
This swap is really quite easy and a lot of fun! Don't let the instructions scare you off - if you have any questions, please ask.
You will have 3 partners (so I hope we get a lot of participants but as long as we have at least 3, plus myself, it will work).
Here are the instructions (seriously, this is fun and easy):
Choose 3 different postcards of the exact same size and thickness (sender's choice). If you have to, you can trim them to the same size as long as you don't have to trim a lot off.

Cut 1 of the cards into 5 random pieces (you can do more but 5 is the minimum). Tip: Keep the cuts as straight lines and angles (not curves); it will make everything easier.

Trace the pieces of the first card lightly on the other cards and cut them out.
(Or, if you have one of those old fashioned big blade paper cutters, you can stack and cut all 3 PCs at the same time.)
Get 3 pieces of card stock and mix up then reassemble the postcards using the different "puzzle pieces" and make 3 different puzzle postcards.
These are to be mailed naked, so please make sure everything is glued down nice and neat AND sturdy.Please be sure to use proper postage.
On the back you are to write about something that you find puzzling. Serious or funny...totally up to you. Don't forget to include your name and the swap name so your partners can rate you.
Please make sure you have a well filled out profile AND that you have logged onto SB April 17 or later so I know you are still active here.
Finally, just in case you are having trouble picturing this swap, here are the 3 cards I made recently for Paige's swap: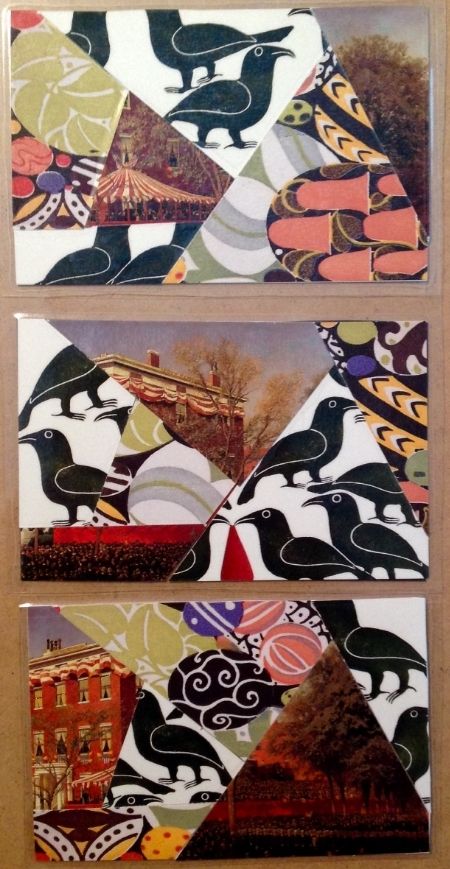 Have fun!