Are you a fan of mini stuff? Heck yes!!!!
For this swap, you will be making a mermaid-themed matchbox-size bed and little doll or stuffie that will fit along with it. Make the outside of the matchbox the bed with the drawer to hold the doll and any accessories you would like to include with it. The doll must be able to fit inside the drawer of the "bed". Use whatever medium you would like. Polymer clay is fine, fabric, felt, beads, etc...
Matchbox size will be a regular 32-ct. matchbox. You can use a purchased matchbox or create your own (my preferred method). THIS TEMPLATE is one I have used often. If you do make your own, just make sure they are still about a 32-ct. matchbox size!
Use your imagination, and have fun!!!
Here are a few other examples: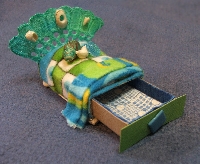 ---
For now, this will be a U.S.-only swap, but if someone would like to host an international version, please feel free!!