I apologize if this sounds awkward. I tried to puzzle out what I meant in this thread, so if you get confused, either refer to that, or PM me. =D
SO! For this swap you are going to create a piece of art that your partner can attach to a pillar candle on their altar. Around me, we can get "seven day" candles in tall glass jars.
Like these: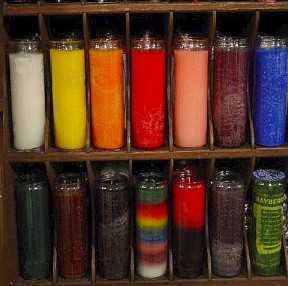 You are not buying/sending a candle, just the art to be applied by your partner.
What kind of art you ask? Excellent question!
Please leave a comment below of the deity, holiday, fetish item... any item, you would like your partner to create for you. How awesome will it be to get someone else's take on your pick?
How you create this art is entirely up to you. I know mine will start digital and get hand-applied details because that's my kinda art. If you draw, then you'll draw something, paint, clay, sew...etc. All mediums are welcome. And the art can be as dimensional as your postage allowance will bear, just remember that it's going to be bent around a candle so flexible is essential.
As for applying the art... I rubber cement the back of my art and an area on the glass jar. When both are dry, I apply the art and rub off any extra glue. Ain't nuffin' gettin' that off, baby! =D
I hope that was clear and welcome any and all questions, comments, complaints.