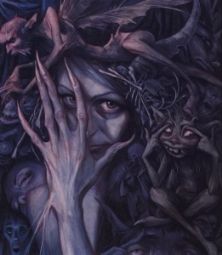 *If you have not received your swap from me please send me a message asap. I send all swaps on time so if you haven't received it yet it just means the postal monster ate it. I'll be happy to send another swap along after I talk to you. :) *
Hello all! I'm completely new to this website but am incredibly excited to be involved in swaps.
I think it goes without saying that I love arts and crafts. Honestly all arts inspire and push me (drawing, painting, beading, dancing and music).
I have been told before that I love and am inspired by too many things. Though this may be true, I don't think you can be inspired by "too" much. I am a sucker for anything period, cultural, natural, bright and fun.
I guess that would make me a worldly, renaissance, rock-a-billy, hippie who can still be seen running around with rainbow beaded bracelets and pigtails in my hair.
Some things I love include:
Pinup (Bettie Page, Fighter plane nose art), the roaring 20s ( flapper dresses, bootlegging, speak easy), the 50s rock and roll scene (also rock-a-billy), the 60s, 80s, and 90s.
Also, cultural art and language as well as cultural clothing. I have always wanted to travel the world to meet people, learn cultures and languages. I think there is lots of beauty in culture and I'm very attracted to it.
Nature is another major part of my being. Feathers, plants, animals, and skies are all part of my being. I've been called a hippie, a gypsy and a faerie at various points and in some ways this does radiate well with who I am.
As for other things (especially nerdy) I love video games, old video games. My preferred systems are NES and SNES and I'm a huge fan of Zelda, Final Fantasy, and Maniac Mansion( if you know what this is I have instant love for you). I also can be considered pro femme and love open conversation.