J'habite en France
Le Havre, Normandie
(My english is not perfect !)
.
I try, day after day,to make my family feel good and happy. You will see here a "light profile"...Nothing serious . Swap is for fun !
=)
I like gardening, nature..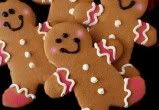 Love and collecting all representations of Ginger Bread Man. Love christmas time !
All stuff with cherry or birds on it will make my day !!
My favorites colours are metallics , gold ,silver.copper, Yellow , red blue,turquoise, baby pink, linen ,coffee, beige. =) But also colourfull or kawaï ,modern- fashion- design-styles =)
My little house is decorating "loft" and shabby but I like mixing différent styles
You can find this here, 'Reversible" is a wonderfull shop: http://www.reversible.fr/eco-designer/
Practice Feng Shui