Hello!!
My name is Opal
I'm Thai and live in Thailand
I'm 32 years old and work as a maxillofacial dentist in the hospital.
I live in the hospital residental house but all the swaps will send to my parents' house in Bangkok which I go back in the weekend that mean I'll open all the package only in the weekend and rate them immediatly on Friday or Saturday.
And because I'm in Thailand, it will take 2-3 weeks for my package to arrive there where most of you live such as USA so please wait for that, if you still didn't received anything after 3 weeks after the sent date please contact me first.All of my package has it's tracking number and I will go track for it or re-send it.
I have 1 little shih tzu dog name Punjim (Meaning in Thai = Little dip of food)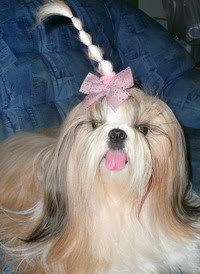 So I would love all of cute hair accessories for my little girl ;)
And that's mean all of my swaps not come from a pet-free house. I try my best to keep everythings away from my pet.But as she was spoiled (by me) she always run or be around me all time when I'm home.Please understand and forgive me for this.
In my free time I enjoy drawing CG and sewing cute stuff
I love cute things and love all hand made stuffs!!
I'm a strawberry mania!!!!!
Love everything in strawberry so if you want to please me it's really easy just send me some strawberry stuffs!! And that will make me happy
And to anyone who is my swap partner, please do not send chocolate or something that can melt. It will turns out pretty bad with a hot weather in Thailand!!
People who angeled for me
Angeled for me in Stickers, stickers and more stickers swap that I was flaked by yvonne1968.She sent me lots of stickers with really good quality!How great she is!

Angeled for me in Cutesy forest creature matchbox swap that I was flaked by bizzles.She sent me cute matchbox with lovely stuffs.Thanks so much!
**I'm looking for more angels for 1 swap that I was flaked on.
So if you want to be my angel you can look at the bottom of my profile for the swaps that I was flaked on.
Thanks so much!!**