♥ Animals and Animal Rights
♥ Bunny Rabbits
♥ Turtles and Sea Turtles
♥ Penguins (I want my own!!!!)
♥ Deer and Fawns
♥ Faux Fur
♥ Cheetah, Leopard, and Zebra Print
♥ Cherries
♥ Polka Dots
♥ Comic Books
♥ Zombies
♥ Day of the Dead Stuff
♥ Skulls (NO ANIMAL SKULLS)
♥ Clowns (especially evil looking ones)
♥ Retro/Vintage Era (20's, -80's)
♥ Pin-Up/Rockabilly
♥ Glamour
♥ Punk Rock
♥ Silent Movies and Actresses
♥ Burlesque Dancers (esp. Dita Von Teese)
♥ Drag Queens
♥ Japanese Culture
♥ Lolita Fashion
♥ Harajuku Girls
♥ Bento Boxes!
♥ Domo Kun!!!
♥Pucca
♥ Kawaii (San-X, Sanrio, Incentive!, Kamio, Q-Lia, Mind Wave, Ark Road, Pool Cool, etc)
♥ Sanrio Characters: Hello Kitty Deery-Lou Chococat My Melody Cinnamoroll Charmmy Kitty Chibimaru Kuririn Kuromi Pandapple Sugarbunnies Tenorikuma USAHA*NA
♥ San-X Characters (Berry Puppy, Rilakkuma, Kutusitanyanko, Nakayoshi Net, Nyan Nyan Nyanko, Yōguru-kun, Beer-chan, Sabokappa, Kireizukin Seikatsu, homekoro, Relax Bear, Suki To Issyo, Jewel Cat, Kyoo Usa....and the list goes on)
♥ Choco'Miss
♥ TokiDoki
♥ Blue Q (Miso Pretty, Cute As Hell, etc.)
♥ Sonny Angel
♥ Ruu & Suu
♥ Hannari Tofu
♥ Gloomy Bear
♥KidRobot!!!!!
♥ Johnny Cupcakes
♥ I'd LOVE a plushie of the Black Soot Balls from My Neighbor Totoro & Spirited Away & ANYTHING Ghibli Related, esp. Totoro!!!!!
♥I'm just now beginning to love Scarves!
♥Kandi Bracelets
♥ sparkly things
♥ Good Tattoos
♥ Ed Hardy
♥ Art Books(Mark Ryden is my Fav.)
♥ Makeup (I love Bold, Bright Colors)
♥ collecting Re-Ment
♥ I'm now interested in Collecting the Mini Figurines from Red Rose Tea Bags
♥I would like to start up a collection of keychains now too
♥ Halloween
♥ Horror Movies (B-Movies esp.)
♥ Tarina Tarantino
♥ Fashion
♥Kanzashi hair pins
♥ Vanilla is my Universal scent
♥ I love Lavender
♥ Vera Wang's New Scent Rock Princess!
♥ Lemongrass
♥ Vegan/Vegetarian Friendly products
♥ Vegan Recipes
♥ Handmade items are great, I appreciate the love that are put into them. (Dotee Dolls, ATC'S, Inchies, amigurumi (I don't know how to make them)
♥ Anthropomorphic Objects (I collect S&P Shakers)
♥ Food and Candy (especially other Countries, but my fav is from Japan)
♥ Ribbon
♥ Buttons
♥ Scrapbook Paper
♥ Stickers
♥ Dollhouse Miniatures
♥ Collecting Dolls (Blythe, Barbie, etc.)
♥ Queen of Hearts
♥ Steampunk
♥ Rock N' Roll
♥ Color Combos: Dark Turquoise with Hot Fushia Pink and Yellow (New HK Collection), Blue with Red and Yellow (think superhero), Purple with Yellow, Black and Pink, Pink and Brown, Brown and Blue, Blue and Pink, Pink and Lime Green, Turquoise and Salmon-y Orange-ish
♥ Blood Red Roses
♥ Mahjong Tiles
♥ old antique trinkets (broken jewelry, skeleton keys, bits of lace, etc.)
♥ Vintage Style Plastic Charms
♥ Gumball Machine Toys
♥ Vintage Hankerchiefs
♥ Wall Pockets
♥ Learning a new Craft or Hobby
♥ Anything with "Spooky" or "Sweets" on it
My Favorite Foods/Drinks are: ♥ Vegetable Sushi (but I really like the way any kind of sushi looks)
♥ Candy Apples (especially Red)
♥ Pocky!!!!
♥ Ramune Soda (esp. flavors in Lychee or Peach)
♥ Tea (Jasmine, Chai, etc.--Bubble (Boba) Tea is my New Favorite!!!!)
♥Aloevine (Aloe Vera juice with yummy pulp!)
♥ A drink from the local Tea House called Snow (it tastes kinda like a milk shake or smoothie) my favorite flavor of Snow is Avocado Coconut (It sounds totally disgusting, but there actually no flavor of avocado or even color...it tastes like Vanilla coconut Ice Cream!!!!! Yummy!!!!!)
♥ Mushrooms (a great meat substitute!!!)
♥ Borba skin replenishing Water!!! Yum!
♥ Lychee is my Favorite Flavor right Now
♥ Cupcakes, Ice Cream, Sugar & Spice.....
♥ Chocolate is probably my favorite flavor
(esp. Dark Chocolate with Raspberry!).
♥ Coffee
♥ 50's Decor
♥ Vintage Tin Signs or Vintage Ads
♥ Shabby Chic
♥ Bath and Body Works: Sweet Pea or Black Currant and Vanilla ♥ Hugh Jackman as Wolverine!!!! Hot Stuff!!!♥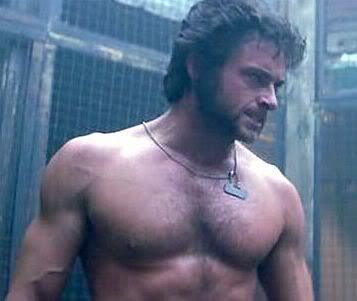 ♥Sabretooth (Liev Schreiber) is yummy too! : D♥
I love these things in Sticker, Fabric, and Scrapbook Form as well
I'll love anything that you send me pretty much, I'm fairly easy to please, with the exceptions of the items below