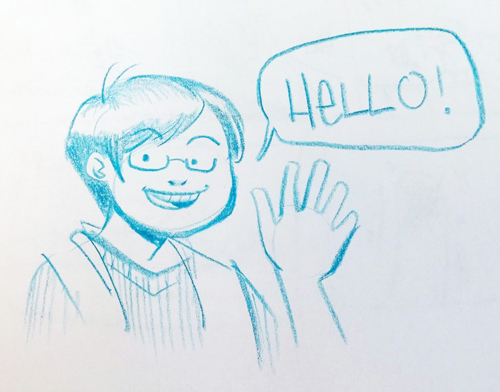 (After I finish all my swaps, I'll be dwindling my max swaps to 2 so I can focus on other things!)
Hi! My name is Marci. I'm a Mexican/Filipino queer artist. I try hard to reconnect with my roots, especially through food--if you have stories to share about being Mexican or Filipino, I would love to hear them!
I'm 24 and I'm a manager for delivery drivers contracted to Canada Post. I've immigrated to Canada from the US (official since October 2016!) and every day I am grateful that I came to Canada. I came to Canada to be with my lovely wife, who always showers me with love and understanding.
I'm an avid reader--I like fantasy and books for young adults. I also read lots of comics--LOADS of them. I dream that one day people will love my comics just as much.
My hobbies are birdwatching, drawing, and playing games. I love to play with my 3 cats as well. Their names are Bees, Moth, and Jersey. I apologize if cat hair gets into anything I send out--I try to keep them away from my work space, but sometimes I miss something.
I tend to put a lot of effort into decorating and styling envelopes and postcards rather than putting in extras. I enjoy the generosity of people that do, and I will occasionally tuck an extra in if I have something on hand that I think someone will like, but it is not a big habit of mine! Don't feel obligated to tuck in for me, either.
I tend not to reply to my ratings lately! I have trouble keeping up and by the time I think, "I should do it!" a month has passed...but know I appreciate every single one!