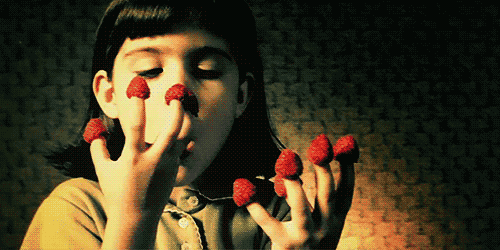 Thank you for stopping by!
My name is Anna, I'm 32 years old "on the paper", but sometimes it feels like I'm 80 years... I have experienced a lot in my life, sadly many of those things I wish that no one have to go thru...
I can be very childish too, I think others sees me like the young Amelie on the picture above. Always up to something, and like to make other people smile.
I love to wear black clothes, especially comfortable, long dresses.
I like to make random people that I don't know smile. I use to put notes written on small purple/pink papers, with cute message like "Have you hugged someone today?" or "Your smile can save someone's day!". I leave them on buses, in coffee shops or in the supermarket.
I have only read English for three years in school, year 2000-2002. But I love languages, so I have learned it on my own. Maybe I'm not so good at spelling and grammar, but I try my best!
I'm religious, I see myself as a spiritualist who believe in the power and healing of the Highest Divine Love/Light. God, the Archangels and Gaia are the ones whom I aim my prayers to. I also think we have spiritual guides and angels who help us in our journey here on Earth.
I have been a Wiccan for some years ago. But now my faith has grown into another path, so Wicca dosen't "fit" me anymore. But I still wear my pentagram every day.
In April 2008, I got a diagnosis, Asperger's Syndrome.
Besides my Aspergers I also suffering of mental illness. I have Borderline Personality PTSD, , dissociative NOS, eating disorder, self-harm/self-destructive behavior and depression. It is hard to cope some days...