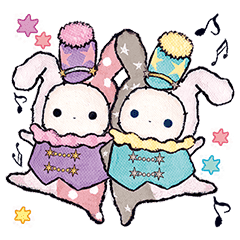 My favorite kawaii has a face. I 💖 food with faces and anchovies with legs and animals in an unlikely milieu like cats serving at Starbucks. I don't care for poo and dogs' rear ends.
I am an appreciator of kawaii more than a collector. I use sheets from kawaii letter sets and memo pads for lists and notes around the house as well as the letters I send. I use lots of washi tape too. I collect sticker sheets, especially ones that tell a story. They are a little collection I tuck away.
I enjoy most characters, especially San-X. My favorite characters now are Corocoro Coronya, Gudetama lazy (or depressed or fatigued?) egg yolk, Kogepan Burnt Bread, Sentimental Circus and Sumikko Gurashi.

I'm looking for kawaii books with faces. And puffins. How could all the kawaii artists have never thought to draw puffins?
The loose sticker flakes I receive go into a bowl on my desk. I decorate outgoing envelopes with these stickers; the sticker flakes you send me may head back to you. I use bone or teflon folders to rub sticker flakes flat on envelopes and postcards so they travel safely in the mail.