I love things that are playful and unique as well as things classic and stylish.
Some styles I enjoy are.....
Goth (Especially skulls)

Witchy (Pagan, Goddess, Halloween... I love it all)

Anime & Manga

Kawaii & Amigurumi

Victorian

Fantasy and Whimsy

Vintage

Nudes ... especially vintage!
Plus sooooooo much more! There are few styles that I don't like :P
I am a mostly non-practicing Witch, though I claim no religion. I love all things Pagan, Witchy or Occult :D
And yes... I believe in Faeries..... though maybe not in the way of flittery little butterfly winged maidens ;) LOL
Some of my favorite Artists include.....
John R. Neill

Michael Hague

Gustav Klimt

Alphonse Mucha

John William Waterhouse

Brian Froud
And more to come!
I would LOVE to get:
Anything with....
Pentacles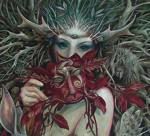 Faeries and other magickal beings ... especially Froud!
Dragons, Unicorns and other magickal creatures
Wizard of Oz... especially decorated in images from John R Neill (Illustrator of books 2-14 and then some)

Miyazaki... Nausicaa, Princess Mononoke (love those forest spirits!), Spirited Away, etc.
Pitbulls :D But only Luvabulls... no dog fighting!!! :(

CHICKENS!!! Bok bok!!! :D

Any kind of clip art of vintage or engraving style images
Embellishments
Surprises!!!!!
Here are some more images of things that inspire me......
Colors & Patterns that I like:
Pink and Brown

Blue and Brown

Blues and Greens and Purples (Cool Colors)

Teal

Orange and Lime Green and Yellow

Retro Patterns

Art Deco & Nouveau

Victorian Patterns

French Country

Stripes & Polka Dots

Paisley

Celestial