I would decribe myself as your typical 26 year old free spirited, tree hugging, hippy chick. I am pretty curious about the world. I read a lot of news and watch a lot of documentaries.
I live with my boyfriend and my cat. We also have a roommate who rents out our second bedroom. We're a bunch of computer gamers who stay at home and make fun of each other.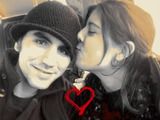 My cats name is Rufus. He is a big fluffy Norwegian Forest Cat. I adopted him from the Humane Society. He is super spoiled and I dont know what I would do without him.
I'm pretty sarcastic and a bit feisty but once you get to know me I can be pretty humorous (or at least I like to think that).
I work at a hotel here in the Pacific Northwest. I love my job but it can be a challenge at times. I at least get to meet a wide variety of people if only for a few minutes.
Favorite color: Seafoam green
Favorite food: Ice Cream
Favorite animal: Cats
Favorite computer game: The Sims 3
Favorite gemstone: Turquoise
Other loves: kawaii, hello kitty, japanese culture, origami, paisley, polka dots, glitter, unicorns, thrift stores, Big Lots, Keroppi, flowers, diet coke, peanut butter m&ms, documentaries, true crime stories, craftster.org, postcrossing.com, farmville, earrings, hemp bracelets, peace signs, incense, hot chocolate, coffee, strawberry flavored candies, butterscotch, barrettes, cappuccino mixes, dove chocolate