THINGS I LOVE: My favorite color is PINK.....bubblegum pink, or medium pink some would call it!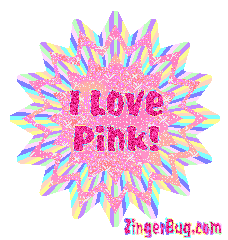 I also love Yellow, Red, and Turquoise...wait...who am I kidding...I love all colors. Even crafting with simple black and white can be stunning.  
Some of my favorite treats/snacks would have to be Twix bars, Reeses Peanut Butter Cups, Red licorice, Chewy Runts, Andes Mints, Pretzel M&M's, Spearmint Gum, Bubble Gum, Cinnamon candy, and anything with Caramel.  I also love Pistachio nuts, but usually will not buy them for myself because they are too expensive.  LOL! I love Starbucks coffee house, Coke, Dr. Pepper and a good Margarita once in a while.  My favorite type of food would have to be Mexican.  I could eat chips and hot salsa everyday. :0) I also love Italian and Chinese food!
I also love anything with ladybugs, giraffes, penguins, hearts, snowmen, dance/ballerinas, monkeys, elephants, puppies, cupcakes, purses, shoes, Maxine (from Hallmark), candy corns, flip flops, polka dots, or ice cream cones on it!! Also love "K" items or anything with my name on it,  crocheted, fabric, or felt flowers (to wear and/or craft with) old dictionary pages and old sheet music, buttons, glitter, rhinestones, and anything girlie!! I'm also into Shabby Chic Vintage....not so much the "grunge" style.....but more feminine.
My favorite holidays are Halloween and Christmas.  I love to decorate the house with all things handmade for the holidays!
STICKER SWAPS I would enjoy receiving 3-D type stickers or glitter stickers are my most favorite. I love cupcake stickers, holiday stickers....Halloween, Christmas,Valentines, Easter, etc., funky flower stickers, and anything girlie....not a big fan of Kawaii/Hello Kitty.....love, love, PINK stickers, too! Thanks!!
THANK YOU FOR READING MY PROFILE and TAKING THE TIME OUT OF YOUR DAY TO SEND ME HAPPY MAIL!!