This fantastic collage was made for me by fellow Swap-Botter @Peony - I absolutely LOVE it!
°º©©º°¨¨¨¨¨¨°º©©º°¨¨¨¨¨¨°º©©º°¨¨¨¨¨¨°º©©º°¨¨¨¨°º©©º°¨¨¨¨¨°º©©º°¨¨¨¨¨¨°º©©º°¨¨¨¨¨¨°º©©º°
Welcome to my own little corner of Swap-Bot! I like it here and you are welcome to join me here any time!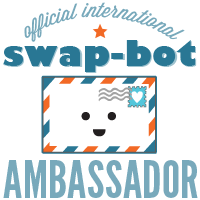 Rainbow is my favorite color and bubbles are my favorite thing!
Note about sending me extras - I am really overwhelmed with craft supplies right now so please don't send me any paper scraps, even ones cut to ATC size - I just don't have room for them or the energy to keep them organized. Thank you so much!
°º©©º°¨¨¨¨¨¨°º©©º°¨¨¨¨¨¨°º©©º°¨¨¨¨¨¨°º©©º°¨¨¨¨°º©©º°¨¨¨¨¨°º©©º°¨¨¨¨¨¨°º©©º°¨¨¨¨¨¨°º©©º°
°º©©º°¨¨¨¨¨¨°º©©º°¨¨¨¨¨¨°º©©º°¨¨¨¨¨¨°º©©º°¨¨¨¨°º©©º°¨¨¨¨¨°º©©º°¨¨¨¨¨¨°º©©º°¨¨¨¨¨¨°º©©º°
I'm 40-something, married, and have two "adult" kids (one son, one daughter - they are legally adults, I'm not commenting on their behavior) & four cats (Lexi, Joe, Lily & Thomas). My husband and I celebrated our 27th wedding anniversary on 9/6/13 (we got married when we were both 19).
I work full-time as a Technical Project Coordinator in the IT department of a major financial business - my team oversees the replacement of out-of-compliance (old, out-dated) computers across the country for all of the Technology folks.
Quilting is my passion! I love to look at and touch quilting fabric.... My daughter is always giving me a bad time about "petting" fabric at quilt stores.
I also dabble in various paper crafts, mixed media, altered art, knitting, crocheting... I've been crocheting since I was a little girl (maybe 5 or 6) and quilting since Jr. High.
°º©©º°¨¨¨¨¨¨°º©©º°¨¨¨¨¨¨°º©©º°¨¨¨¨¨¨°º©©º°¨¨¨¨°º©©º°¨¨¨¨¨°º©©º°¨¨¨¨¨¨°º©©º°¨¨¨¨¨¨°º©©º°
°º©©º°¨¨¨¨¨¨°º©©º°¨¨¨¨¨¨°º©©º°¨¨¨¨¨¨°º©©º°¨¨¨¨°º©©º°¨¨¨¨¨°º©©º°¨¨¨¨¨¨°º©©º°¨¨¨¨¨¨°º©©º°
OMG! I just saw the newest Dairy Queen TV commercial! DQ doesn't just blow bubbles... they blow BUBBLES with KITTENS in them! Two of my very favorite things in the world!
°º©©º°¨¨¨¨¨¨°º©©º°¨¨¨¨¨¨°º©©º°¨¨¨¨¨¨°º©©º°¨¨¨¨°º©©º°¨¨¨¨¨°º©©º°¨¨¨¨¨¨°º©©º°¨¨¨¨¨¨°º©©º°
°º©©º°¨¨¨¨¨¨°º©©º°¨¨¨¨¨¨°º©©º°¨¨¨¨¨¨°º©©º°¨¨¨¨°º©©º°¨¨¨¨¨°º©©º°¨¨¨¨¨¨°º©©º°¨¨¨¨¨¨°º©©º°
These photos were taken one year apart - the one on the right was taken this past Saturday (2/22/14).
Left: 180+ lbs., size 18 jeans, XL t-shirt
Right: 147 lbs., size 12 jeans, M t-shirt
°º©©º°¨¨¨¨¨¨°º©©º°¨¨¨¨¨¨°º©©º°¨¨¨¨¨¨°º©©º°¨¨¨¨°º©©º°¨¨¨¨¨°º©©º°¨¨¨¨¨¨°º©©º°¨¨¨¨¨¨°º©©º°
I started my weight loss journey on May 1, 2013. to date (March 17, 2014) I have lost 36 pounds. I count calories and watch my portion sizes.
I am the co-founder of a fantastic group here on Swap-Bot called "Reached for Success". If you want to get and/or share support in your own "get healthy" journey check us out!