Please note that I am in South Africa so anything I send may take a few weeks to arrive - if a swap doesn't arrive please contact me and I'll follow it up and resend if needs be. I will not flake!
Items also take a little longer to get here (usually 4 - 5 weeks) - I will rate as soon as I receive!
Likes:
Absolutely anything to do with mice/rats!
Anything gothic, black, red, green, royal blue, dusty pink (or any pink & black collaboration), halloween related items, pitbulls, bulldogs, boxers, bears, esp brown bears and polar bears (me and the hubby both have bear tattoos), persian cats, dragonflies, ladybugs, polkadots, pinups, retro, roses, tattoos, angels, angel wings....
Would like to get buttons, embroidery thread, beads, stamps of any kind, paper embellishments, patterned ribbon or felt - almost anything crafty :) but esp faux fur - my new love is making furry monsters :D
Foods - I Love love love! Butterfingers! Those things rock my world! Anything chocolate would be great (except Hersheys), I also like coffee flavoured things.
I am a plus sized person - so if sending jewellery please send longer chains/larger rings. Rings from a size S or T are best.
This is a monster I've made for a gothic christmas ornament swap I'm in - he lives in a cage because he steals xmas chocolates!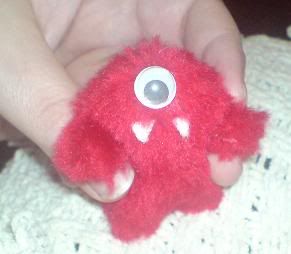 Dislikes,
Anime/Manga type things - kawaii - excessive pink - hello kitty
Please please no butterflies!
I am very allergic to Sodium Benzoate which is a preservative used in most fruity things so please check for this if sending me anything edible.
Hersheys chocolate is absolutely unbelievably awful! Please do not send me any!!!