2017 Since I have moved it's a little harder for me to get to the post office since the nearest one is about an hour away. I will be joining swaps depending on their shipping dates to make sure I can make it to town in time.
09/14/2016
So moving out of state has been postponed until late November. I decided to just take a 3 week vacation instead and move half of my belongings to my new home. I will be making the full move in November.
08/14/2016
I will be moving out of state in a week and a half. I will not be participating in any swaps or tags until I get settled into my new place. I want to be sure I receive everything I have already joined before I leave so it doesn't have to be forwarded. I have sent out all my swaps and just need to send out one tag. I will update my new address when I get settled in and get a new P.O.Box.
Love sites like this. I am part of postcrossing and I love the site. Have had a few penpals over the years and loved swapping things with them.
I have lots of pets, I'm an animal person. 4 dogs, 5 fish, and 5 Cockatiels.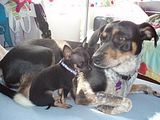 Love to be out places like the beach, river, or on the hiking trail.
Always take pictures of everything while out. Love to take pictures of everything and everyone. I have the randomest pictures.