I love handmade items so it'll be a pleasure receiving it specially if it's from recycled materials and made by you. Drawings and paintings are much more than welcome! I'm interested in private swaps so if you think we have something in common and you'd like to swap with me, send me a message =)
I'm a member in the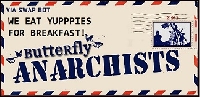 come and join us for Gender/Anarchy/Fairtrade/Veganism/Feminism/Unconventional Swaps!
I always send my swaps if I'm late I'll contact you, I'll never mark as sent when it's not sent. Please if you do not receive my swap just contact me and I'll re-send as soon as possible.
If you're going to be late just write me a private message. Don't worry about it, I don't mind if you're late. Life changes all the time and maybe you're sick, or tired, or blocked, or lazy, or whatever, we're here to have fun and I'm sure you're not going to flake, just contact me.
About angels: Yes; I also have been falked! But it was a risk I took (we all took) when I started using swap-bot and it's the reason because I do not accept angels =) Angels send something and then they have nothing back, it's not fair either. Nevertheless it would be a pleasure if you want to set a private swap ;)
Ratings:
Please, let me know if you have received my items! If I don't receive your rating, I think you've not received my swap =( And I'm worry and I have to send you a message... well you know... I always rate the same day I receive your swap so, if you see I'm not rating you, send me a private message.