Books
I love to read but don't read much, partly because my local libraries suck, mostly because I'm lazy.
A Song of Ice and Fire: Tyrion, Sandor Clegane, Brienne, All the Sand Snakes are some favorite characters :)
I love Stephen King, especially The Dark Tower series. There are some beautiful illustrations in the books as well.
I'm a big Harry Potter fan, though I dislike the movies. Voldemort, Snape, Lucius and Luna are my favorite characters.
Also a fan of Lord of the Rings. I've read The Hobbit, and plan on finishing The Silmarillion. Galadriel, Elrond, Treebeard, Gimli, Aragorn, Boromir, Faramir, Theoden are some favorite characters.
TV
Currently in LOVE with Once Upon a Time, American Horror Story: Coven and Game of Thrones!
Movies
Big lover of sci-fi, supernatural, horror and comedy. Not too crazy about chick flicks.
What Dreams May Come, Donnie Darko, The Shawshank Redemption, The Blues Brothers, Fight Club, Blade Runner, The Lord of the Rings trilogy, The Matrix, Kill Bill, The Ring, Spirited Away, Office Space, Hellraiser, Monty Python and the Holy Grail, Apocalypse Now, AI, Full Metal Jacket, The Girl with the Pearl Earring, Anna and the King, The Last Samurai, Farewell My Concubine, Princess Mononoke, Wall-E, Repomen, Transformers.
Beloved characters: Freddy Krueger, Pinhead, Captain Barbosa
Anime/Manga
Naruto, Bleach, The Melancholy of Haruhi Suzumiya, Gentlemen's Alliance Cross, Love Neko, Wolf's Rain, Cowboy Beebop, Code Geass, Death Note, Uzumaki, Full Metal Alchemist, Doubt, Fruits Basket, Hetalia, Durarara!, Claymore.
Kakuzu from Naruto is my favorite anime/manga character of all time, and I would appreciate anything to do with him, whether it's actually HIM or something like money imagery, quotes he said, stitches, anatomical or other hearts, black tentacles, etc.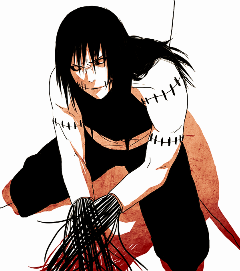 Other favorite characters include:
Vegeta and Raditz from DBZ

Grimmjow, Renji, Ikkaku, Kenpachi, Tousen, Urahara, Shinji, Hollow Ichigo, Stark and Lilinette or any other Espada from Bleach

Yuki and Itsuki from Haruhi Suzumiya

Maguri from Gentlemen's Alliance Cross

RYUK and Rem from Death Note

GERMANY from Hetalia.

Hughes, Scar, Greed from FMA.
List will be updated because I fangirl a LOT :D
Video Games
My favorite games ever include Metroid, Super Mario Bros 3, The Metroid Prime Trilogy, The Legend of Zelda: Ocarina of Time (and each Zelda game for the consoles after that to save space :P), Super Mario Galaxy, Super Mario Bros Wii, Mario Kart Wii, Mortal Kombat: Deception and Tales of the Abyss.
Fav characters include:
Midna, Zant, Sheik, Happy Mask Salesman (LoZ: Majora's Mask), Ridley, Rundas (Metroit Prime: Corruption), Scorpion (Mortal Kombat), Jade Curtiss (Tales of the Abyss)
Music
I don't really understand my own taste in music. Maybe someday, someone else will. Have a list to get an idea:
Muse, Coldplay, U2, Depeche Mode, Devotchka, Arcade Fire, Franz Ferdinand, Rammstein, NIN, System of a Down, Birthday Massacre, Mindless Self Indulgence, Korn, Pink Floyd, Joe Satriani, Gorillaz, Alice in Chains, Daft Punk, Crystal Castles, The Killers, Jorane, Project Touhou arranges and remixes, a lot of video game and movie soundtracks, classical, orchestral (especially strange stuff)