NEWEST PICS 21 Months http://www.myonlineportraits.com/ViewSharedAlbum.aspx?ShareID=e68b03ae-8ab8-4521-82d4-8c8f7ab1aeff
Taking hiatus again busy summer with swim lessons for grand child & other programs! 2-25-2012 A few pics of Chezza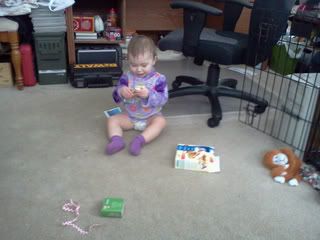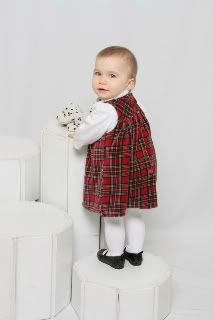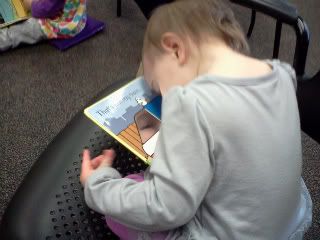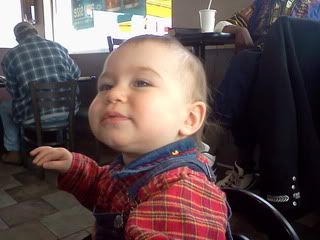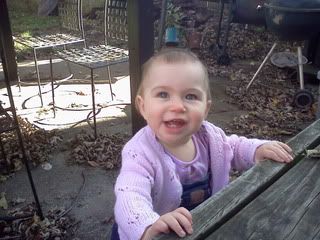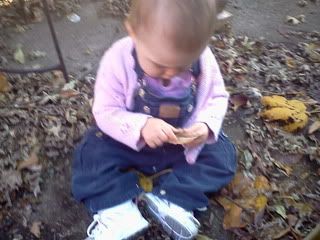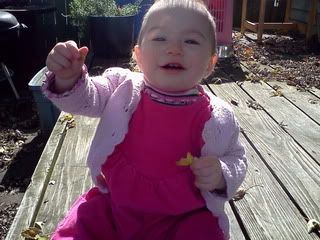 1-2-2012 Life is very busy I have cut back on my swapping but I have not left S-B Still trying to get a swap in every now and then. Have a great day.
10-22-11 Still on diet though am having issues breaking the 110 pound loss mark. Here are pics of both granddaughters :) taken in Sept. Chezza was 9 months & Michealla 2.5 years! Boy are they both growing like weeds.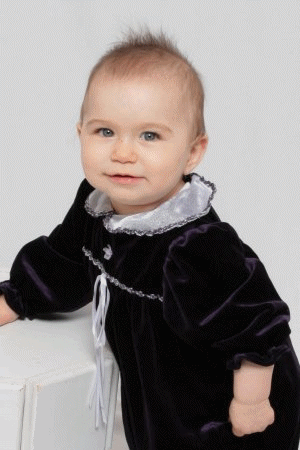 6-13-11 I have lost 100 pounds & I got custody of my grand-daughter here are some pics of her since she came to live here.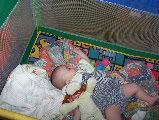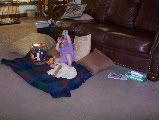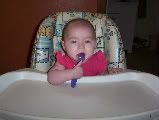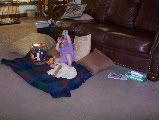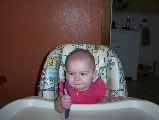 2-11 Finally got this done Chezza was 3 weeks when I had these made.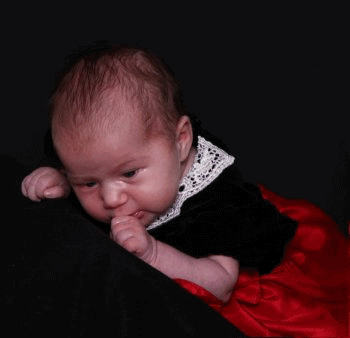 1-29-11 I have lost 90 pounds now!!
1-6-11 Boy does time fly! I thought by now I would have more time for S-B but I have found out due to a tiny little person I am still running! Taking her to get pictures done this morning then to her first pediatrics appointment.
Taken 12-25-10 she was 2 weeks old
12-18-10 Weigh in today & I have lost 83 pounds!
12-11-10
At 4:16 PM my grand-daughter Chezza was born.
12-7-10
Ok quick update The baby has dropped & my daughter can go at any time. I am still on the diet but have leveled off for now fluctuating between 74 & 72 pounds gone. Doc says that is normal and it is just my bodies way of rebuilding blood vessels to get at the next layer of fat. I have slowed down on S-B allot due to the baby being due any time now.
10-25-10 I've lost 67 pounds!
10-4-10 As of this past Saturday I have lost a total of 61 pounds, 4 pounds fell off last week! But things are getting better in other ways too. I am now allowed to use some of the machines at the gym to help build certain muscle groups so that poor old bones will have more support. I tried some of the machines today before water aerobics and is my butt dragging this afternoon!My lower back & shoulders are sore not pain sore but sore like they haven't been used in a very long time!
9-26-10 2 more pounds GONE! ok not big losses but steady. At this rate I will lose 100 pounds by my May 9 anniversary of starting the diet. Wish me luck & words of encouragement are always appreciated!
9-18-10 Lost another two pounds bringing the total to 55 pounds to date. You know S-B has allot of extra special people who even though you have not met them in person, are always ready to help, pat you on the back & keep your spirits up. I just want to say thank you to all you lovely people that have helped keep me focused, and losing weight. Encouraged me when I was craving sweets, to keep up the good work & find alternatives. You ladies & gents are the best!
9-11-10 Lost 53 pounds as of today. I have been making the rounds of Doctors this week & am being given permission, to start using some of the machines at the gym in moderation after I get the epidural on the 21st, for my back pain! I guess you guys don't know about my back, I have advanced degenerate disc disease (arthritis), a bulging torn disc, and sciatic, so now you see why I am so restricted.
9-1-10 My partners daughters & grand-daughter came in from out of state yesterday. so if I am slow in replying I apologize in advance. I will get back to you though.
8-22-10 I've lost 50 pounds so far!
8-20-10 Found out that my daughter will be having a girl & the Due Date is Dec 23.
8-7-10 Wooooooooooohoooooooo lost total of 43 pounds!
7-17-10 Total weight loss 37 pounds it is slow going but still at it.
7-5-10Weigh in was this morning Down total of 34 pounds now!!
7-2-10 Well I am still losing weight have lost a total of 30 pounds to date. I have been getting to the gym more often and my knee is starting to get better. I am still in a good deal of pain from it but am now able to back off my off my narcotics.
6-9-10 Well I've officially lost 21 pounds since I started this diet YAY! That is the good news, the bad news is I haven't gotten back to the gym since Friday & my knee is getting worse. I know it sounds crazy that as long as I can get in the pool every couple days my knee doesn't hurt as bad, but if I go more than 2 days it reduces me to a blubbering mess (due to pain levels) OK done venting LOL
5-27-10 Knee is starting to do better. I ignored my doctors & went back to the gym. I am only using the pool area for exercise but after going 2 times this week my knee is causing me less pain & I am rebuilding the muscles in it where they were getting weak, from staying off my knee & resting it.
Diet update total weight lost 18 pounds only 182 more to go!
5-12-10 Life has been frustrating the last few months just as I was getting relief from my bad knee (right one) I tore the ligaments & tendons in it & am trying to recoup from it. My swapping as some of you may have noticed has been greatly decreased due to the fact I am not supposed to drive. Top that off with my daughter (21) is pregnant, and neither her or the father have jobs. He is at least going back to school this month to study culinary. They are living with us, so now instead of planning a craft room when my son moves out I am planning a nursery. Yay lucky me.
Now for the good news my partner & myself have started the Adkins diet, to be frankly honest with you it is not easy but in the not quit 2 weeks I have been on it I have lost 10 pounds, now only 190 to go lol
Added 11-28-09 I fell again yesterday so back on the walker (cane if they let me get by with it) and no driving for me :(
Added 11-13-09 Well my partner has a job again good that she is working bad it is as a Temp driver for a Truck Company who supplies fill in drivers for different business'. Lets hope she has lots and lots of work!
Added 8-8-09 My computer bit the dust this morning. I have a back up computer but it has not got all my files on it so I might not be able to retrive some information or files :( that I had for swaps and will have to remake them.
Added 6-26-09 I will be scaling Swap-Bot back for awhile my partner was just laid off. I will complete any tags & swaps I have going currently. Then I will have to be picker about what I choose to do, because of the expense of postage.
Added 6-7-09 My doctors have recently upped my pain meds if I make a mistake on a swap or it seems just really weird please pm me & tell me what you think is wrong. I'll fix it. I generally send early enough in a swap to be able to resend before the deadline.
I reuse packaging supplies when possible, So if the outside of your package looks like it has been reused it probably has.
I'm 45 years young mother to 3 the youngest of which just turned 18!
I generally go by Phoenix, instead of my given name. It is my real life nickname. Truth be told I do not always realize it when someone is talking to me if using my legal name. ;)
I have a lot of allergies to perfumes, cats, and evergreens of all types. I'm also allergic to metals even surgical steel so I can not wear jewelry.
I have dabbled in many types of crafts in the past. These days it is pretty much whatever tickles my fancy and my hands can handle. I make candles, have made jewelry in the past, some sewing, make teas, arthritis ointment. I'm interested in making soap, bath salts and such, but haven't started at this time. Please note I do not scrapbook and have no desire to start, scrap-booking stuff is not something I would enjoy or use unless they are specifically Pagan in design and suitable for other things.
I'm not certain I have a favorite music genre as my taste skip all over the place. You might hear Red Sovine followed by ACDC and then Shaggy fast forward to Patsy Cline or Reba, though most RAP I just do not get into.
I can't stand Harlequin type books though some historical romance is OK I much prefer Jean Auel, Laurel K Hamilton, Kim Harrison (even though she is kinda cheesy at times). Ann McCaffery, Marion Zimmer Bradley, herb books, botanical books.
Underworld, Hellboy, Under a Tuscan Sun, geezsh I know there are others my brain is just on sabbatical right now.
Mostly Sci Fi, the dog makes me watch animal Planet (seriously),
I like Black & blue (seriously) Not crazy about green (unless its the kind you can spend) though I find as I get older I don't mind it being around me I just do not care to wear most greens. The exception would be a dark emerald green. I don't really have any other colors thats absolutely taboo. Not crazy about powder pink for myself though!