I'm editing my profile and thought it would be good to remind each and every one of us about the importance of being serious about our swaps/tags. I received (when I actually did) a lot of deceiving stuff lately after putting a lot of efforts, time, and love into my own swaps and tags. Wouldn't it be a good idea to join less swaps and give them all the attention necessary? Wouldn't it be a good idea to take the time to write what we owe somewhere (so we don't forget!) and to send our stuff within a reasonable delay? Wouldn't it be a good idea to tell others when we cannot make it? What's the whole point of joining so many swaps when we end up throwing quickly unwanted items in an envelope because we don't have the time/desire to give our partners all the attention and love they deserve? Is it only me? Do I have so high expectations? Well that was my reflexion for tonight. If it will not change anything at least I let it out!
---
I'm a muslim, graphic designer, amateur photographer and artist. I love to paint all kind of stuff, from wooden boxes to glass vases. I take picture all the time. I'm sewing a bit, I wish I had time to do more! If you're looking for me, you'll either find me painting or making jewelry in my studio or in front of my computer, designing a new logo for a client or procrastinating on the net...
My favorite crafts these days are : jewelry making, crochet, pebbles magnets.
I'm enjoying cooking and gardening, I'm a nature-lover! I love fruits, flowers and plants. I'm planning to make an herbalist training in the coming months. I prefer everything natural and organic. I have a great interest in environment issues and recycling. I just love to wear the ugliest clothes I have and my rubber boots and go to play and work in my garden. I sometimes feel I have more in common and learn more from a flower than from a human being - I know, sounds weird!
I'm on a very strict diet due to a chronic disease that I'm trying to control without medication. I'm eating dairy, gluten and sugar-free food only. No chocolate, coffee, candies for me. Only tea, which I love!
I have 3 sons (1,6 and 8). The big ones too like to paint and make DIY activities. We are a very creative family :-)!
Colors: purple, robin's egg blue, teal, indian rose and brown (especially combined), cactus green, lime, dark orange. I love colors in general, I cannot say I dislike one in particular.
I hate snow, cold and anything related to winter (unfortunately living in one of the worst country for that!).
I'm an Etsy addict! I'm selling and shopping, come and have a look at [my store](http://www.zamzamcreations.com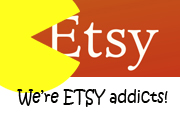 If you ever buy some clothes from my etsy favorites, my size is medium :).