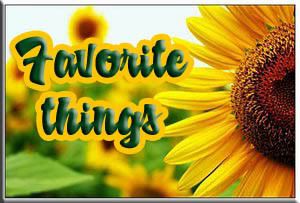 1) CLOTHING/FASHION - Purses, Shoes, Scarves and Wraps as themes.
2) JEWELRY - Gold, Silver, Turquoise, Beads, necklaces, earrings, pins and anklets are great, but NO BRACELETS please. I rarely ever wear them.
3) TEA TOWELS - LINEN ONLY, new or vintage, no stains, Any Themes, but no calendar towels or hand stitching. I collect them, enjoy them and they are useful.
4) FOOD & DRINKS- Decaf or herbal teas (see section on teas). Please do not send any candy or food. FOOD THEMES are okay- Cupcakes Sweets, Fruits, Veggies, etc...
5) GIFT CARDS - Starbucks cards are always a great surprise.
6) CROCHETED & KNITED ITEMS - scarves, wraps, dishcloths, pretty hats! OR - an AMIGURUMI PEMBROKE WELSH CORGI (the tanish red and white ones without tails) I know that a pattern exists @ planetjune.com and on Etsy. I will fall over if someone comes up with this item, Go ahead shock my fuzzy socks off!
7) QUILTED ITEMS - Pretty quilt blocks, mug rugs, place mats, table runners, purses and wall hangings - hand or machine made.
8) FABRIC - Quality quilting fat quaters or charm squares - prints, batiks, small prints, conversation, and blender fabrics. Charm squares(71/2 X 71/2) are the best, as just one is a nice thought and does not cause and envie to become a package. Why 71/2 X 71/2? They can have a border added and sew down to a nice visible size for eye-spy quilts or leave room for applique which I love to do. Other sizes are also enjoyed.
9) POSTCARDS & BOOKMARKS - handmade over purchased, but collect and enjoy both.
10) MUSIC - Anything music related, flute or piano, homemade CDs, Love folk music, classical, some jazz and blues, crosssover country, pop 80s or older, soundtracks and also enjoy world beat but would like to get to know it better. Would love being turned on to new tunes. Generally mellow music, but I also like happy dancable tunes.
11) GREEN BUTTERFLIES - of any kind, it's my personal symbol. I would enjoy handmade items, drawings, pictures, cards, envies, paper, stickers, pins,... on this theme.
12) COLOURS - Greens, Turquoise, Oranges, Purples and Reds.
13) ANIMALS - Things with my dog's breed on them, Pembroke Welsh Corgis, and animal and nature themes in general. I also like dolphins, birds, ladybugs, turtles & frogs. But Please NO FIGURINES or Stuffed things.
14) SUNRISES & SUNSETS - it is amazing that everywhere in the world people are offered these beautiful moments each day.
15) AUTUMN RELATED - it's my favorite time of the year. I'm an October Birthday Gal.
16) HOLIDAYS - in the following order: Valentine's Day, HEARTS and FLOWERS are great!, Halloween, Christmas, St. Patricks Day, July 4th and Canada Day, May Day - May 1st
17) ART - Flok art of different cultures, Fine Art or your own paintings and drawings (small please, PC or ATC size) Butterflies, mermaids, fairies and Celtic knot work are always beautiful.
18) SPIRITUAL SYMBOLS - (all world religions) - om, ying-yang, chalices, crosses, Buddhas, hands, eyes... and inspirational quotes from all religions.
19) OTHER - Quotes, Poetry, Prose, Photography (especially 4 X 6 beautiful/inspirational black and white or colour glossy prints), Painting (small, no bigger than 5X7), Drawings and Music (song lyrics or homemade CDs). Whether you've written it or it's just a personal favourite, I'd love you to share it with me. If you are limited for dollars this is a great low cost way to communicate and connect with me. These things have a depth that store bought items lack and I truly appreciate the thought and time behind them.
20) THINGS THAT YOU MAKE! I trust that I will enjoy your art/craft work, respect it and the time you spend designing and making it. I look forward to receiving it.
21) BOOKS I'm Looking For a couple of Jennifer Chiaverini Books - "The Cross-Country Quilters," & "The Sugar Camp Quilt;" "The Fixer Upper," by Mary Kay Andrews.
22) DISLIKES- I need to say that I do not like hanging ornaments or dottees, sorry. I don't collect them and I am not into them at all. I also do not care for anything foam, plastic, scented or food items.
23) INSPIRED - Sometimes I am inspired by someone's passion for something expressed on their profile and I expand the swap I'm signed up for in such a way to incorporate it in my art/craft work or in a gift. I hope my partners are surprised and up-lifted when they received what I've sent. Thoughtfulness is the key. It is simply wonderful that we all take the time and special efforts to bring joy to each other through our connections in this community.
---